Although there will be plenty of opportunities to celebrate birthdays, the first birthday will always remain special for the parents. Naturally, they put a lot of effort into celebrating this important milestone in their child's life. Balloons, cakes, theme decorations, and presents make the day extra special. Family and friends add to the fun, helping the parents create a cherished memory that's worth treasuring for a lifetime. Read on to learn how to plan a great first birthday. And if you're looking for 1st birthday event organisers in Bangalore, visit us.
A Checklist of Things Essential for The Birthday Party
A guest list
Arranging party venue
Food arrangements
Decorations
Cakes
Games & Entertainment
Return gifts
Photographers and Videographers
Snacks and beverages
Choosing a Guest List
A grand party with a huge guest list may seem tempting, but keeping it small and simple is best. Children are sensitive and tend to be overwhelmed in a noisy social setting. Babies prefer familiar adults and may react to strangers by crying or going very quiet. Since the event involves children, you must take extra precautions to baby-proof the venue – a smaller venue is easier to manage than a large one.
Arranging a Party Venue
Most parents prefer to book the apartment community hall. If the house is big enough, you can arrange the party at your home. You can also set the venue at a local restaurant – McDonald's even offers special birthday packages for kids. Irrespective of where you book, it's better to choose a place that's close by for you and the guests.
Food Arrangements
Plenty of caterers offer special kid's menus. You can order boxes containing a few of the kid's favorite things like mini pizzas, cutlets, noodles, pasta, etc. There's also a special counter for desserts – cupcakes, bite-sized brownies, mini donuts, etc. You can also place a chocolate fountain as a centerpiece and place marshmallows, pineapples, etc., on skewers around the fountain. Children can dip the skewers in the fountain. Plan a separate menu for adults but keep it simple. An elaborate menu adds to the cost but also leads to a lot of waste because everyone's going to be enjoying the snacks, cookies, and cakes.
Decorations
Picking a theme makes it easy to buy decoration supplies. It could be a particular color, Disney character, or even animals – you can design everything around the theme, including invitations, cake, decorations, etc. Just make sure they're age appropriate because children tend to mouth everything they see. If you're unsure about 1st birthday outdoor decorations, call Book My Balloons. As one of the best birthday party organisers in Bangalore, we have arranged thousands of decorations across the city.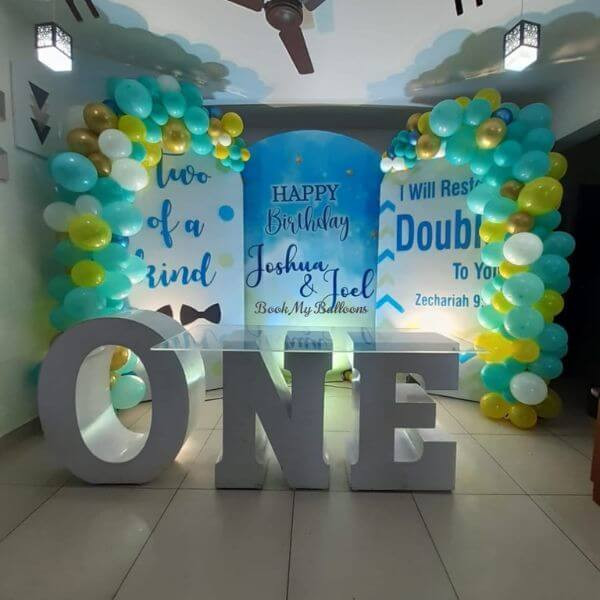 Cakes
Generally, parents choose a cake that's close to the birthday theme. I suggest keeping the birthday cake small – around 1 to 2 kg because while the fondant is edible, they're sickeningly sweet, and not everyone will eat it. You can buy separate slice cakes for the guests if the birthday cake isn't enough. You'll also need a separate cake if you've planned a cake smash photoshoot.
Games and Entertainment
While your little one isn't old enough to enjoy games, there are plenty of fun activities to keep them entertained. This includes magic shows, balloon twisting, and clowns/jugglers. You can also rent ball pool slides, bouncing castles, and even put up a bubble show.
Return Gifts
Choose party favors carefully, as most of the time, they end up in the trash. A bag of little trinkets, stickers, candy, etc., is a favorite and less likely to be tossed in the bin. You can also arrange for someone to take Polaroid photos and add these photos to the party favor bag as keepsakes.
Photographer & Videographer
Arrange a professional photographer so your child can watch their special moments when they're old enough. At Book My Balloons, we can help you arrange a professional photographer for the event, rent photo booths, and even one for a 1st birthday photoshoot.
Why Hire 1st Birthday Event Organisers in Bangalore?
1. Professional expertise: 1st birthday event organisers in Bangalore specialize in planning and executing events, including birthday parties. They have experience and knowledge in creating a memorable and well-organized celebration. They can handle various aspects such as venue selection, decorations, entertainment, and catering, ensuring a smooth and successful event.
2. Time and stress management: Planning a birthday party can be time-consuming and stressful, especially for a one-year-old. Hiring an event organizer can offload the planning and coordination tasks to professionals, allowing you to focus on enjoying the event and spending time with your child and guests.
3. Creative ideas and themes: Event organisers often suggest unique themes and ideas to make the 1st birthday party special. They can personalize the event based on your preferences and incorporate elements that reflect your child's personality and interests.
4. Vendor coordination: Event organisers have established relationships with vendors, such as caterers, decorators, entertainers, and photographers. They can help you find reliable vendors within your budget and coordinate their services, ensuring that everything runs smoothly on the day of the event.
5. Attention to detail: Event organisers pay attention to every party aspect, ensuring no detail is overlooked. They can handle logistics, such as sending invitations, managing RSVPs, arranging seating, and organizing activities suitable for young children, ensuring that the celebration is enjoyable for everyone.
6. Budget management: Event organisers can work with your budget and help you make informed decisions about where to allocate your resources. They have experience negotiating with vendors and can assist in getting the best deals and value for your money.
We are one of the best birthday party organisers in Bangalore, helping with every detail related to the event from kid's birthday party balloon decoration to food catering and even professional photography.