A child's first birthday is a significant milestone in their life and an event that truly deserves a grand celebration. A baby's brain grows most rapidly during the first years, making it a significant year for the child. Positive experiences, abundant love and warmth, and responsive relationships help stimulate the child's mental and emotional well-being. First birthdays also signify hopes and possibilities for the future. If you're planning a memorable birthday and confused about choosing 1st birthday photoshoot packages in Bangalore, read on:
Why Do You Need a First Birthday Photoshoot?
A first birthday photoshoot is a wonderful way to capture special moments during the baby's milestone event. Here are some reasons you must arrange a first birthday photoshoot for your child.
Cherished Memories
Children grow up quickly, and time flies faster than we realize. A photoshoot allows one to freeze those fleeting moments and create lasting memories. Looking back at the photographs years later will evoke nostalgia and allow you to relive those precious early days.
Family Bonding
A first birthday photoshoot can involve the whole family, creating a special bonding experience. Parents, siblings, and even grandparents can join in and be a part of the celebration. These photographs will capture the child's growth and the love and connection within the family.
Customized Themes and Decorations
First birthday photoshoots often involve carefully chosen themes and decorations, adding a creative touch to the photos. Whether it's a favorite cartoon character, a whimsical theme, or a personal concept, you can customize the shoot to reflect your child's personality and interests. This allows for unique and personalized photographs you'll cherish for years.
Shareable Memories
The photographs from the first birthday photoshoot can be shared with friends and family, near or far. You can create physical prints, compile a photo album, or share them digitally through social media or messaging platforms. Sharing these memories allows your loved ones to be a part of your child's special day, even if they couldn't attend in person.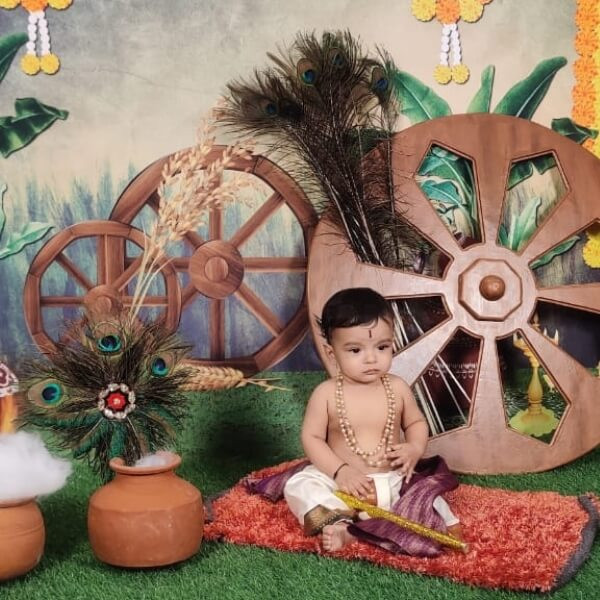 How to Choose a Photographer for The 1st Birthday Photoshoot?
There are multiple birthday party planners in Bangalore who can connect you to experienced photographers adept at handling children. At Book My Balloons, our professional photographers are trained to capture the best shots, including candid photos that capture the essence of the event. We can cover the entire birthday party and even deliver high-quality soft copies of all the pictures. Here are a few tips to ensure you get the best 1st birthday photoshoot package in Bangalore.
Experience and Portfolio
Look for photographers with experience in children's photography, especially first birthday sessions. Review their portfolio to understand their style and see if it aligns with your preferences.
Package Inclusions
Examine the package details closely. Check the duration of the shoot, the number of edited photos provided, and whether it includes props, costumes, or additional services like cake smash sessions.
Photographer's Style
Consider the photographer's artistic style. Do they focus on candid shots or posed portraits? Choose a style that resonates with you and matches the atmosphere you desire for the photoshoot.
Safety and Comfort
Safety is paramount, particularly when photographing infants. Ensure the photographer has a safe and suitable environment for the shoot and that they prioritize the comfort and well-being of your child.
Reviews and Recommendations
Read reviews from previous clients or seek recommendations from friends and family who have had positive experiences with photographers specializing in children's photography.
Pricing
Compare the prices of different photographers, but don't make cost the sole determining factor. Quality and expertise are worth investing in to capture timeless memories.
Communication and Flexibility
Choose a responsive photographer, open to your ideas and willing to adapt to your preferences. Good communication ensures that your vision for the photoshoot is understood and executed effectively.
Why Choose Us for 1st Birthday Photoshoot Packages in Bangalore?
We are one of the best birthday party planners in Bangalore, offering to make your birthdays and other milestones memorable. As premium birthday party decorators in Bangalore, we also offer 1st birthday party photoshoot packages. Our services are affordable and comprehensive. They include everything – we even offer to cover the birthday for you and offer a baby photoshoot studio on rent. Don't trust us? Read from over 6000 reviews about us on Google!
Looking for 1st birthday photoshoot packages in Bangalore? Call us. Visit our Instagram page for more updates on your child's dream birthday party celebrations.