Balloons epitomize joy, fun, and vibrancy, making them essential to any celebration, especially birthdays. They can transform any space instantly, bringing a festive ambiance. Everyone, irrespective of age and gender, loves balloons. There's something inherently childlike about playing with balloons. If you want to add magic to your birthday, call Book My Balloons for helium balloons online delivery in Bangalore. But first, read on to learn more about them.
When Were Helium Balloons First Used?
We all know Michael Faraday first invented rubber balloons as a part of his experiments, which used hydrogen to help them float. Helium balloons were introduced much later in the 1920s when New York authorities banned hydrogen as a lifting gas thanks to its potential to explode. Over the years, manufacturers discovered that helium was a much safer lifting gas, making them a popular birthday party balloon decoration.
What Are the Different Types of Helium Balloons?
The kid's birthday party balloon decorations are incomplete with helium balloons. But did you know they come in different types, sizes, and shapes? From solid-colored balloons to fun and shiny balloons that are ideal for themed birthday party balloon decorations, you can have plenty of options to choose from. Some of the common types of helium balloons for sale in Bangalore include:
Latex Balloons
While latex balloons can be filled with air or helium, using the latter ensures they stay afloat longer – almost 8 to 10 hours.
Foil Balloons
These are made from mylar and designed to hold their shape well. Filling them with helium ensures they last longer, making them ideal birthday party decorations.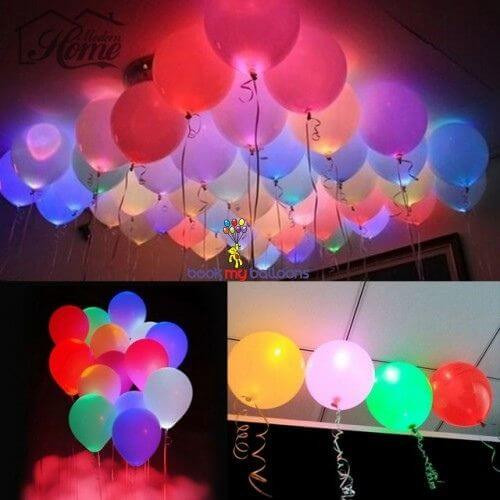 What Are the Advantages of Using Helium Balloons?
Helium balloons are a popular themed birthday party balloon decoration because they float well compared to air-filled balloons. Some of the advantages of buying helium balloons online in Bangalore include:
Firstly, helium balloons are visually captivating and create a festive atmosphere. Their vibrant colors and graceful floating motion instantly uplift the mood and add an element of joy to any occasion. Whether it's a birthday party, wedding, or promotional event, helium balloons enhance the overall aesthetic appeal and create an inviting ambiance.
Helium balloons are versatile and customizable. They come in various sizes, shapes, and designs, allowing creative expression and personalization. From giant floating characters to elegant arches and bouquets, helium balloons can be tailored to match the theme and purpose of any event. They allow individuals and businesses to showcase their creativity and make a memorable impression on guests or customers.
Helium balloons have practical benefits. They are lightweight and easy to transport, making them a convenient choice for decorating venues or surprising loved ones. In addition, their gentle floating movement can catch people's attention and act as effective markers or guides in crowded spaces or outdoor events.
What Are the Disadvantages of Helium Balloons?
Helium balloons are comparatively expensive – using them to fill balloons can shoot up the overall decoration cost for the event. But if you're looking for suppliers offering helium balloons for low cost in Bangalore, call us. We promise affordable solutions that match your budget.
Also, helium is a non-renewable resource with limited supplies and is found only in a few locations around the world. If you're conscious of environmental impact, we can help you with alternative eco-friendly birthday party balloon decorations.
How Do I Buy Helium Balloons Online in Bangalore?
Visit the Book My Balloons website to buy helium balloons online delivery in Bangalore. You could also DM us on our Instagram handle #bookmyballoons for helium balloons home delivery in Bangalore. We have sold millions of balloons and other party supplies and have over one lakh corporate and personal clients in and around the city. Not sure about our service? No problem! Read over 6000 Google reviews to learn what our clients think about our products and service.
Looking for helium balloons for sale in Bangalore? Call us!