Who says that birthday celebrations are just for kids? Adults also deserve to go out and have extravagant and exhilarating birthday parties. Much like the elements found at a child's birthday, the decorations at an adult's birthday party also need to be fun, such as balloons, candles, and streamers. Book My Balloons has everything you need and so much more if you're on the hunt for helium balloon decoration ideas.
Remember when we were kids, and we would look forward to our birthday with bated breath, waiting for our friends to come over and see the kind of presents they got us? That was indeed a magical time! You can still recreate that magic; as an adult, you get to do it on your terms without anyone questioning your wishes and taste. You can enjoy a massive celebration with your friends and family or even throw an intimate party with just close buddies. Either way, there are numerous ways you can make this day memorable.
Whether you're on the hunt for helium balloons for birthday decorations or helium balloons for outdoor party decorations, we're here to solve all your party needs. To learn further about helium balloon cost in Bangalore or helium balloon home delivery in Bangalore, reach out to our team and receive all the necessary details. Visit us!
Here Are a Few More Ideas to Explore
But you can't always have a helium balloon-themed party. If you are looking for some unique ways to celebrate your birthday, we have you covered as well.
Host a Murder Mystery Party
Did you enjoy murder mysteries as a child? Or perhaps that's still your go-to genre in terms of reading? If so, then why not host a murder mystery dinner? You can base it on the characters created by writers such as Agatha Christie or Arthur Canon Doyle, decorate the area resembling an era in the past, have everyone wear vintage-styled clothes, and spend the evening solving the mystery and feeling that childlike joy all over again.
Go Wine Tasting
Are you a wine connoisseur? Do you find yourself reaching for wine at most gatherings? You can go wine tasting on your birthday with friends. Visit a gorgeous vineyard, try different types of wines, attempt to guess what they are, and feel blissfully happy throughout the process. You can also have a party where the snacks are centered around wine and things that go great with wine. Prepare a charcuterie board filled with various meat and cheeses, and sip your wine as you relish them.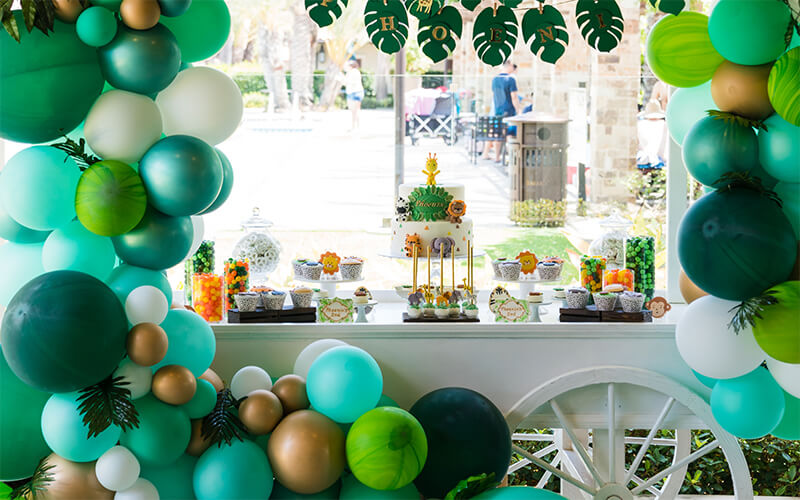 Rewatch Your Favorite Movie
Why not rewatch your favorite movie on your birthday? Some movies have a place in our hearts forever; movies that we can watch over and over again with the same enthusiasm while we find ourselves laughing away or reaching for the tissues to wipe our tears. You can do this in the comfort of your home while you call over a few friends and make some popcorn, or you can also get a projector and watch it on a bigger screen at a park or on a balcony.
Imagine a thousand fairy lights, delicious snacks, and you getting all your loved ones to watch your favorite movie.
Have a Game Night
Do you like to spend your Fridays or weekends indulging in exciting games with your buddies? Perhaps you can plug a round of Dungeons & Dragons, some Monopoly, and Scrabble, or something into your PlayStation? If this sounds ideal, throwing a game night on your birthday will be beyond perfect!
This is especially ideal for the ones who like to stay home and celebrate their birthday. You can empty some space in your living room, put up a bunch of beanbags, keep the bowl of chips full at all times, get some beer, and pick a game to have fun with.
Organize a 90s Themed Party
If you're a 90s kid, you remember the era with utmost fondness. They were simpler times with quirky TV shows, heartwarming movies, and fashion that was a combination of daring and experimental. So, how about diving back into that period and bringing the 90s to the current generation for your birthday party?
Pass the news on to your friends and make sure they dress up like characters or celebrities from the 90s. Set up photo booths and capture every happy face at your birthday bash so you can reflect on them and reminisce in the future.
Brunch and Dancing
Would you like to have a bit of everything on your birthday? Imagine two different kinds of celebrations with your near and dear ones, because why not? For this purpose, you can organize brunch during the day, filled with mimosas, pancakes, waffles, acai bowls, and whatever you prefer. Have your friends dress up in colorful, summery outfits and engage in witty conversation.
The second part of your day could be all about dancing. Hit a club of your choice and dance away to some groovy, foot-tapping music as you enter the next phase of your life.
Do a Spa Day
Some people like to spend time alone on their birthday before having a grand party, and that's perfectly all right. In fact, it can be pretty healthy and therapeutic to indulge in some much-needed me-time, and what's an excellent way to do so? By gifting yourself a spa day!
Go to a wellness resort or a spa retreat to get a facial done, sit back and ask for a relaxing body massage, and take a steam bath to open those pores and melt your worries. Post this pampering session, you can also catch a meal and a movie and feel satisfied knowing that you gave yourself a well-deserved laidback birthday celebration.
Cook Away
For those who love to cook and feed their loved ones, cooking is a fabulous idea for your birthday. You don't have to cook all the meals by yourself. If your backyard has enough space, you can host a BBQ party and ask your friends for assistance at the grill.
Another option is to host a potluck dinner where your buddies bring a special dish each of their choices while you cook something you love. Sit around the dining room table and recollect old memories while munching on scrumptious food. It seems like quite a delightful idea, right?
Classy Dinner Party
Are you just waiting for an occasion to dress up? Perhaps you're obsessed with Bridgeton and wish to attend a ball or party just as grand and sophisticated? Well, you don't have to look for Victorian gowns, masks, and carriage rides, but you can still host a classy dinner party to bring your Regency Era dreams to life.
Ask your friends to dress up at their classiest best and keep the dress code that suits your liking, such as silk dresses, tuxedos, and just the right amount of bling. Choose a menu that reflects sophistication, and be sure to keep fancy wine glasses around. Also, don't forget to take plenty of pictures. After all, it's not every day that you get your friends to dress up to celebrate your existence.
Amp Up Your Party with Helium Balloons!
Helium balloons have been around for quite a while now, and thanks to how much we've seen them around because of pop culture, we're all quite intrigued by them. After all, most of us remember watching it in an episode of The Big Bang Theory and laughing at how it could alter one's voice if one inhaled the air from it. Well, this is one of the many reasons why helium balloons are so popular for birthdays. So, if you're on the hunt for helium balloon decoration ideas, Book My Balloons has got you covered.
No matter what occasion you're celebrating, we have a helium balloon design for each and every theme. Just reach out to us to learn about the eclectic types of helium balloons we have available, and we'll recommend the ones that will transform your party into an ambiance of glitz, glamour, and magic!
Some of the types of helium balloons we provide for different occasions include:
Age Number Balloons
Anniversary Celebration Combo
Baby Shower Balloons
Chrome Balloons
Clear Confetti Balloons
Clear Feather Balloons
Custom Balloon Printing
Emoji Balloons
Football Print Balloons
Halloween Balloons
Valentine's Day Balloons
New Year Balloons
Jumbo Balloons
LED Glow Balloons
Personalised Balloons
Polka Dot Balloons
Transparent Confetti Balloons