A child's first birthday is always special. Although the kid might not remember what that day was like, it will forever be memorable for their parents and everyone who helps organize it. If you are searching for first birthday party themes in Bangalore, visit us for fun ideas and themes. Whether you're looking for air balloons, helium balloons, foil balloons, or birthday custom home decoration supplies, we are here to help you. In addition to providing balloon decorations in Bangalore and birthday balloons home delivery in Bangalore, we can also assist you in gathering your kid's 1st birthday party supplies in Bangalore.
Every parent dreams about how they will be celebrating their child's first birthday. They plan on what their child will wear, the people they invite, the theme, the kind of cake to get, and so much more. In addition to jotting down ideas for the party and everything associated with it, there are other interesting factors to consider to make your kid's first birthday even more special. Let's look at how you can give your child a birthday party they will remember fondly for ages to come.
Interesting First Birthday Party Ideas
The kind of traditions you implement on your child's first birthday sets the tone for the years that follow. While throwing a grand party is a great idea and perfectly acceptable, you can also come up with unique, memorable themes.
Perhaps these could be where you celebrate the main birthday party, or maybe this can be on the day of your baby's birthday while you reserve the exotic and fancy celebrations for later when your friends and family join. Here are interesting first-birthday party ideas to help you:
Visit a Zoo
Visiting the zoo or aquarium is something your one-year-old is bound to love on their birthday. With the many picture books, parents expose their kids to, babies undoubtedly enjoy seeing the many animals and underwater creatures up front. Taking them to a petting zoo where they can interact with the animals while you make funny animal noises together will add to the fun.
If you plan on going to the zoo, try to go during the day so there's less crowd and you can navigate the area much more quickly and easily. Make sure to carry plenty of water and snacks to prepare for the entire day. Don't forget to take videos, click pictures of your little ones with the animals, and watch their eyes grow wide with wonder and excitement.
Plant a Tree
Why not teach some valuable lessons to your child from a tender age, right? Being nurturing towards the planet, for instance, is a remarkable thing to learn from your parents, and a great way to mark your child's first birthday is by giving back to Mother Nature and planting a tree. Let your child watch the tree grow as they nourish it and learn about the importance of plants and greenery.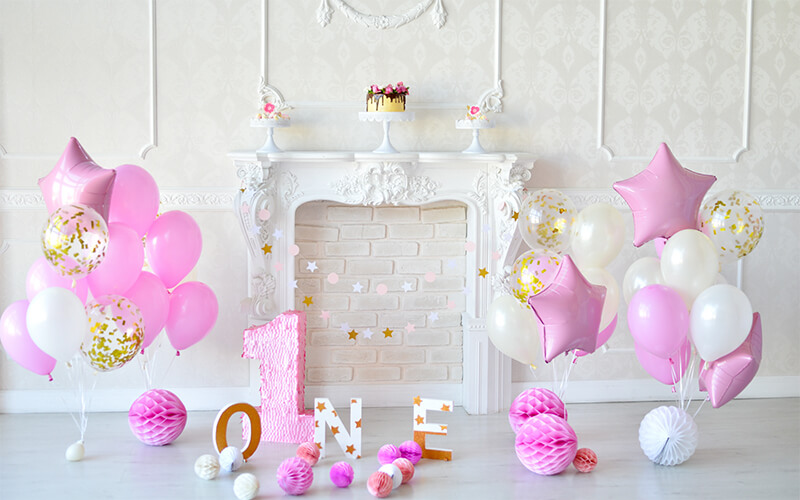 Go to the Beach
Does your child love to splash water around when you attempt to bathe them? If so, take your water-loving baby to the beach on their birthday. Plan a picnic, carry some delicious homemade food and desserts, and watch your child squeal with happiness at the sight of the beautiful blue waves. Don't forget to take a tent and lather lots of sunscreen on yourself and your child.
Make a Special Birthday Meal
We completely understand how time-consuming it is to cook meals for your family daily, especially with a toddler in the house. However, we can't deny that birthdays are special occasions that require extra effort, which is why you can make a one-of-a-kind birthday meal for your baby on their first birthday.
While they cannot munch on gourmet dishes at that age, they can do so as they grow older. So, take the help of your family and put together a menu that everyone can enjoy.
Organize a Photo Session
These days, our phones are filled with pictures we take at every event without even looking at them again. However, a child's first birthday is undoubtedly something every parent would want to remember and document. What is a great way to do so? By organizing a photo session, of course!
Hire a reputed photographer and call them to your home to take hilarious, candid, and heartwarming photographs that you can frame and hang in your living room. Have your child walk around and do whatever they please and catch them at their authentic best. Remember to strike multiple funny poses, because of course you will be returning to these photographs years later when your child is all grown up and headed for college.
Celebrate at Home
The appeal of celebrating a kid's birthday at a themed venue or somewhere outside is understandable, but the joy of celebrating at home hits differently. Suppose your party is an intimate affair, or you have the space to accommodate everyone in your home. In that case, there is nothing more amazing than going ahead and throwing your baby's first birthday bash where they feel most comfortable. You can organize a BBQ in your backyard, set up some games that all the kids can participate in, and experience the sheer happiness of witnessing your child having the time of their lives.
Initiate a Tradition
Create your own quirky and warm traditions that your child will appreciate you for even when they grow older. They can be as simple as baking a special cake on their birthday, visiting a charitable organization, or building a time capsule. The last one is incredibly unique because it's something they can discover as their older selves and reminisce about how they were as a child.
Tips for a First Birthday Party
Before you plan your toddler's first birthday extravaganza, there might be some vital points to remember to make the celebration even better. Some of those tips are as follows:
Create goody bags for your child's little friends. Fill the goody bags with candies, balloons, and anything age appropriate for the children who attend the party. This is a sweet gesture, and you're bound to get many blessings in return.
Ensure that your games and activities for the party are not too loud or invasive for your child's ears and senses. This is especially crucial since there are sure to be other little children at the gathering, too. Instead, keep the games as musical, stress-free, and noiseless as possible.
Avoid anything that could be a choking hazard when it comes to food for a kiddo's first birthday. Instead, opt for different shapes, colors, and textures that awe them and have them smiling.
Give your child a birthday gift they can use soon enough, such as a baby swing or a rocking horse.