People love birthdays because they make them feel loved and special. It provides the perfect excuse for people to meet their friends and family. You don't need fancy party supplies to make a birthday party special – a few balloons are more than enough. If you are planning a party for a loved one, here are a few balloon decoration ideas for birthdays:
1. Balloon Garden
Who says flowers are the only way to decorate a party? You can create an equally impressive decoration with balloons. Consider decorating the driveway and garden with balloons. Balloons added to a garden are a great way to make any birthday special.
2. Balloon Ceiling
Fill a room with balloons so that they appear to be hanging from a ceiling. You could either choose balloons of random shapes, colours, and sizes or follow a theme, depending on your budget or overall decoration theme.
3. Helium Balloons
Helium is ideally used to create a balloon ceiling. You could also make the party fun by asking guests to inhale helium from a balloon for a squeaky voice. There are plenty of party supplies stores that can set it for you. Or, you could call us for a birthday party balloon decoration in Bangalore.
4. Light It Up
If you are looking for a classy decoration, try using light balloons. Or, you could stick fairy lights to balloons for a breathtakingly beautiful decoration. Isn't this the best way to remind your loved ones that they light up your life?
5. Rainbow Balloons
Children love rainbow-themed parties. You could make the party extra special by creating a rainbow background using colourful balloons. The rainbow decoration not only looks pleasing but appears great for pictures.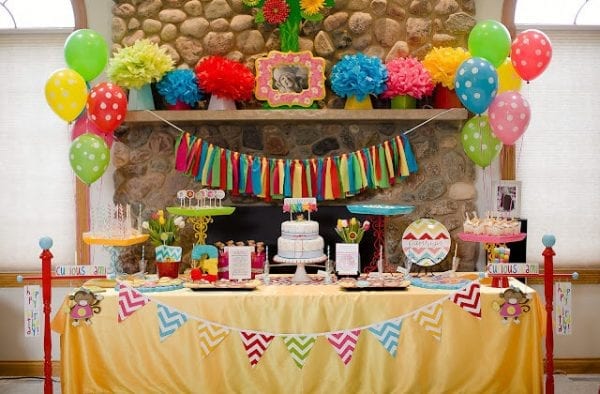 6. Say It with Confetti
Nothing screams party more than confetti! I know it is the oldest trick in the book, but it works all the time. Create a confetti balloon shower by filling balloons with confetti and glitter to make the birthday boy or girl feel extra special.
7. Create a Balloon Wall
A balloon wall could be the perfect backdrop for a photo booth. You could also design the balloon wall to match your party theme.
8. Hang Balloon Photos
You can stick balloons on photos or place them inside the balloon for a fun décor. You could also fill them with gas so they remain glued to the ceiling and have pictures hung on a ribbon. These pictures could depict the person's entire life and refresh their happy and goofy memories. It's an excellent idea for a surprise birthday party.
9. Disney Balloons
Nothing's more synonymous with happiness and childhood than Disney. If Cinderella and Sleeping Beauty are your favourite Disney characters, consider buying Disney balloons with different characters like Mickey, Minnie, and goofy.
10. Consider Adding Some Glitter with Glitter Balloons
Don't we all love glitter and all things sparkly? Glitter-filled balloons bring out the child in everyone! If you want to give your loved one a party they'll remember forever, consider using glitter-filled balloons.
Are you looking for more balloon decoration ideas for birthdays? visit us or Call us!, if you're looking for birthday balloon decorators in Bangalore, call us to make your dreams a reality.