10 Best Tips To Use Balloons For Decorating Party Venue
In a party, decoration plays a great role as a perfect decoration drives enthusiasm and party-like mood in attendees. Therefore, party organisers often think a lot while decorating a party venue. Though there are so many decoration ideas based on different materials, but do you know how amazingly you can use balloons to show your creativeness and add charm to your party?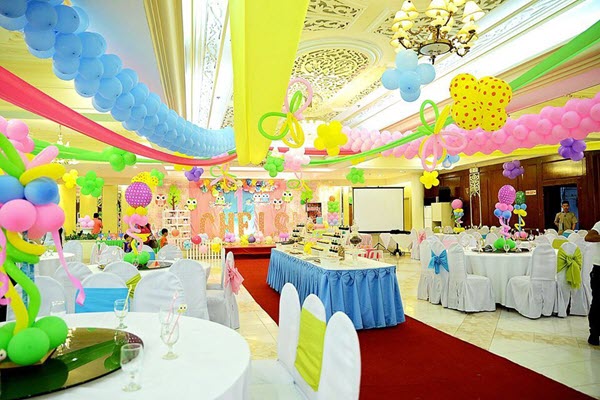 If no, then this article will tell you 10 best tips to use balloons to decorate your party venue and give your guests a remarkable party experience that they cherish throughout their life.
Classic Balloons – Decorating your bland party venue with classic colorful balloons that match your party theme, you can get a vibrant feel to the whole environment. These balloons can be attached to the table décor. They would also look great if attached to the chairs' back. This way, simple classic balloons can add a blasting fun rich feel to the whole party.
Adding Balloons on the Cake – This is such a spectacular idea that does not ask for losing your pocket, but in low budget, you can do wonders with balloons on the cake. Just have a whole white simple cake and decorate it with small balloons toppers that are easily available to the party stores.
Confetti Balloons – Confetti balloons is another brilliant idea to blast. Just have a lot of balloons and fill them with glitters or confetti that would add a lot of exciting flares. To make special announcements or introduce some surprises, pop with these confetti balloons and see the magical effect it fills in the party.
Balloons With Stick – It is a real unique idea to use balloons in party décor. Attaching balloons to decorated sticks will surely enhance the overall party ambience at a great extent.
Wrapped Balloons – You may have already seen or may not, but balloons wrapped in beautiful clothes look astonishing in any party décor. For having more creativity in this idea, you can check out some craft stores in your area or can check online for the same. While wrapping balloons in cloth, make sure to match the clothes with the theme of the party.
Hanging Balloons – It needs very less effort to arrange, but the effect that comes is truly magical. Hanging balloon idea has a real power to get a place a vibrant party-like feel in no time. So, when you are in hurry, go with hanging balloons to decorate your venue and give your guests a great party time.
Photo Balloons – When you want to add some personal touch to your décor with balloons, then photo balloons can prove the best décor idea for you. Pick some best pictures from your photo gallery and get them printed. Hang those photos with the balloons as it will give a great surprise to the one you are organising party for.
Backdrop Decorated With Balloons – It is a cute yet impressive décor idea for party with balloons. It looks perfect when decorated on the backdrop of the dessert table.
Decor Ceiling With Balloons – When you desire for simple and sophisticated decoration in the room, then give a décor to the ceiling with balloons that will show your creativity and look stunning to your guests.
Balloon Décor – In the market, you can buy balloons in varied sizes, colours and shapes. Considering this fact, use them for creative décor. You can use sketches, glitters or any other prop to make it perfect party décor.