The right decoration plays an important role in driving enthusiasm and getting everyone in the mood to party. But did you know you don't need fancy decoration items or expensive accessories to make a party venue look extra special? With some ingenuity and a few balloons, you can transform any space into a dream venue. Here are a few balloon decoration tips for parties and other events:
1. Classic Balloons
A bland and dull party venue can be made interesting with colourful balloons that match your party theme. Simple classic balloons can add plenty of fun and excitement to the party. These balloons can be attached to the table, chairs, and other furniture.
2. Add Balloons to The Cake
This is a wonderful yet affordable idea wherein you can attach balloons to the cake. You need a simple white cake and a few balloon toppers readily available online and at stores selling party supplies and decoration items.
3. Confetti Balloons
This is another brilliant idea that costs less than you'd think. Fill plenty of glitters and confetti inside a balloon, and blow them as you would any regular balloon. These balloons can be used to make special announcements or introduce some surprises.
4. Balloons With Stick
If you are looking for unique balloon decoration ideas for birthdays, try attaching them to decorated sticks to enhance the overall party ambiance.
5. Wrapped Balloons
Balloons can be wrapped around clothes to create a stunning party décor. For creative ideas, check Pinterest and other websites, or ask for help from your local craft store. Or, you could call balloon decorators in Bangalore for help.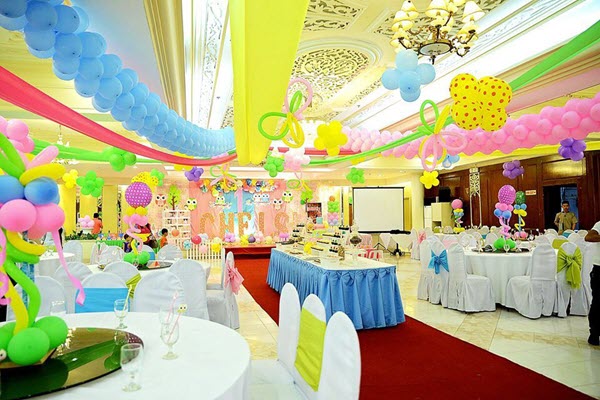 6. Hanging Balloons
This decoration is very easy, but the result is magnificent. You can hang balloons to give the place an instant life and get everyone into the party mood. If you're in a hurry but need to set the right party ambiance, consider using hanging balloons.
7. Photo Balloons
These are the best balloon decoration tips you'll ever need! Personalize your party décor with photo balloons and hang them along with photos of the guest of honour. All you need are a few pictures to be printed on the balloons.
8. Backdrop Decorated With Balloons
This is a cute yet impressive décor idea for a party. It looks perfect when decorated on the backdrop of the dessert table.
9. Balloon Ceiling
If you are looking for a styling yet classy party décor, consider decorating the ceiling with balloons. It looks stunning and is the ideal way to show your creativity.
10. Fancy Props Using Balloons
Buy balloons of different colours and sizes to create arches, marquees, and other decorations using balloons. You can also build toy houses, palaces, and other decorations – all you need is a few balloons and some creative ideas.
If you do not have the time or energy to try these balloon decorating tips, consider visiting us and calling us for creative balloon décor.