Birthday parties are incomplete without colorful balloons. But we've come a long way from the old style of tying a bunch of balloons together and taping them to the wall or ceiling. Call us if you're looking for professionals offering the latest balloon decoration services in Bangalore. And if you are looking for the latest balloon decoration for birthdays, read on:
Our balloon decoration artists are aware of the latest trends and perfectly capable of introducing you to the latest balloon decoration ideas.
The Balloon Photo Frame
Huge photo frames and photo booths have become ubiquitous at parties and events these days. Setting up a bright-colored frame covered with beautifully placed balloons with a lovely backdrop is the best way to get guests to get their pictures clicked.
Use Foil Balloons
Foil balloons are back in the market and trending as well. Character-oriented foil balloons with alphabets on the background wall are a picture-perfect backdrop for the central stage and make the party lively.
Balloon Arches
Wouldn't it be fascinating to enter a party with an elegant and colorful arched entry of balloons?! Themed balloon arches with the archtop decorated with textured balloons help make your child's birthday party unique and memorable.
A Live Size Portrait
The birthday boy or girl needs all the attention they can get! How about setting up a life-sized photograph of your little one to make it even more fun? This would make the party special for your child and create a memorable portrait of them to be cherished forever.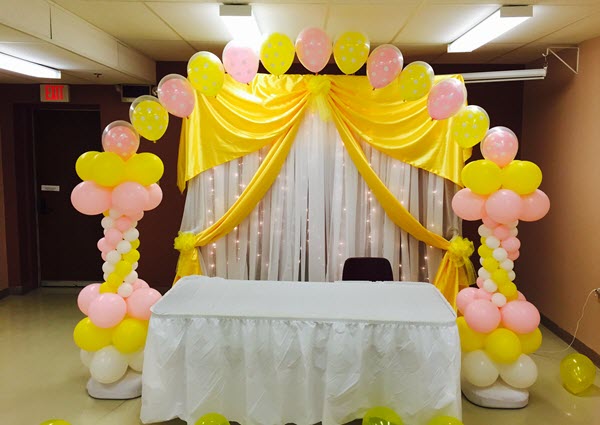 Balloon Backdrop
Every party needs an awesome backdrop for the center stage, which could be the perfect backdrop for photographs. Polka dotted balloons of different sizes can be used to create a picture-perfect backdrop for a birthday party. You can cover a complete wall with cute-looking balloons for the children to get their photographs clicked on a cute background.
Balloons can never go old! They're perfect for all events – birthdays, anniversaries, and retirement parties. Balloons can bring a smile to anybody's face and make them feel special and celebrated. To make your friend's/family member's birthday bash more special feel free to contact us. As the latest balloon decoration suppliers in Bangalore, we'll set up the party place for you without getting into any hassle and allowing you to enjoy the party.
Are you looking for the latest balloon decoration ideas? visit us or Call us for more information about the latest balloon decoration for birthdays.