Balloons can bring a smile to just about anyone, irrespective of age. They symbolise joy, happiness, and enthusiasm. Celebrating a birthday party without balloons is like baking a cake without sugar – you can make one, but it doesn't take as good. You can also get creative with balloons, using them to add colour to a party. If you're keen on taking your party to the next level, here are a few hot air balloon decoration ideas to consider:
1. Order Cakes with a Mini Hot Air Balloon
What's a birthday without a cake? You can always order a cake with a mini hot air balloon placed on it for decoration. These balloon cake toppers are ideal if the birthday party theme is hot air balloons. Guests can be served cupcakes with hot air balloon-shaped fondants. The cake can be decorated with one or more coloured hot air balloons, thereby impressing everyone.
2. Decorate The Room with a Hot Air Balloon Garland
You could decorate the room with a hot air balloon garland taped to twine or stuck on the wall. This decoration will surely make your party a hit, with guests loving the hot air-themed decoration. Call us if you're looking for hot air balloon decoration supplies in Bangalore.
3. Hot Air Balloon Party Favours
Who says party favours have to be boring? Consider placing stuffed animals and other favours on mini hot air balloon baskets to surprise your guests.
4. Hot Air Balloon Cake Pops
Place cake pops designed to look like hot air balloons on the birthday cake or distribute them among guests. Hot air balloon-shaped cake pops not only look cute but impressive as well.
5. Hot Air Balloon Light Bulbs
Old light bulbs can be reused to make hot air balloons. You'll also need water bottle caps, colourful clothes, etc. This is DIY work – you need some creativity and plenty of time.
6. Hot Air Balloon Cookies
Serve cookies shaped and decorated to resemble hot air balloons. All you need is a hot air balloon-shaped cookie cutter and colourful fondants.
7. Decorate a Beach Ball to Resemble a Hot Air Balloon
Decorate a room using used beach balls – you could use them as a centrepiece on the dessert table or dining table.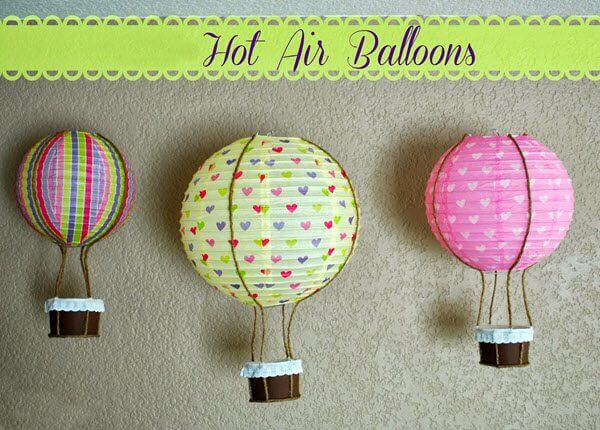 8. Hot Air Balloon Cupcakes
Decorate cupcakes using fondants to resemble hot air balloons, or add cake toppers that resemble a hot air balloon. You could also use cupcake wrappers with hot air balloon prints.
9. Vintage Hot Air Balloon Party
Make some hot air balloons and attach them to a cookie stand or suitcase for a vintage look.
10. Decorate the Table
Decorate the dessert table with hot air balloons. The dessert table can be decorated like a cloud balloon garland with printed hot air balloons cascades.
You could do all of the above or hire hot air balloon decorators in Bangalore. There are plenty of professional party planners who can handle any event and ensure it is a grand success.
All you need is to search for them on the internet. Ensure they have the necessary experience and expertise to handle events of any scale. They can help you decorate your birthday party with any theme, including hot air balloon-themed parties.
Are you looking for hot air balloon decorators in Bangalore? visit us or call us for a quick quote.