The winter season brings along the excitement of Christmas. Being a time for festivities, many people like to organize a Christmas house party for friends and families. A Christmas party calls for a décor that suits the theme and gives a party-like vibe. Here's a list of a few christmas balloon decoration tips that you can do with some simple balloons at home.
Balloon Lights
Balloon lights are one of the unique yet fun Christmas balloon decoration ideas to add glow to your Christmas party, especially at night. All you need to do to create balloon lights are place glowing sticks inside the inflated balloons just before the party. Put these balloons in dark spots and see them glow. Mini glowing sticks that last up to 12 hours are available in the market.
Balloon Christmas Tree
Everyone at home and guests will love the idea of a Christmas tree made of balloons. For making a balloon Christmas tree, you will need balloons of various sizes, small, medium, and large. As supplies, you will mainly require green colored balloons and a golden star-shaped foil balloon, ribbons, and a balloon pump. Inflate all the balloons. Start the base with 3 large inflated balloons tied together, slowly moving upwards with medium-sized sets on top of it and ending on top with bunches of small balloons. Stack them in the shape of a Christmas tree and ensure all the balloon sets are secured tightly. Lastly, tie the inflated star-shaped foil balloon on the top using a ribbon. You can also call a Christmas balloon decoration service provider to create a tree for you.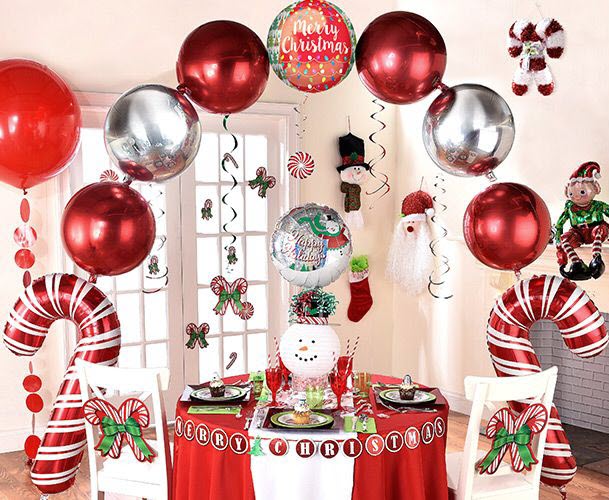 Balloon Snowman
Christmas and winter go hand in hand. Balloon decorators in Bangalore create a snowman that is a massive hit at a Christmas party with kids and adults alike. To make one at home, use white balloons to create a cute balloon snowman with the help of a balloon pump, ribbon, paper frills, and a black marker. Every snowman will need 2 inflated white balloons, 1 long balloon for the body and a round one for the head. Tie both with the help of a ribbon. Use a paper frill and bind it in the neck like a muffler using glue. Draw the face and buttons using the black marker, and your little snowman is ready. Make as many of these as you need and paste them on the walls using double tape or place them at certain spots as decoration.
Make your Christmas party special by planning and organizing the event will full zest using Christmas balloon suppliers in Bangalore. Get in touch with www.bookmyballoons.in or visit us for Christmas balloon decoration tips or other event-related services. We will be happy to help you with our expertise in implementing decorations of your choice with perfection and on time.