Thanks to social media, people are becoming open to the idea that brides deserve their share of fun before settling into matrimony. It's not just the men celebrating bachelor parties with their friends; girls too are getting together for a fun evening or weekend for one last hurrah. Since the concept is relatively new in the country, finding unique bachelorette party supplies in Bangalore is difficult. If you're planning to throw a memorable hens night for your friend or loved one, here are a few ideas to help you throw a classy and tasteful party:
Choose Quality Bachelorette Party Decoration Supplies in Bangalore
To throw a successful bachelorette party, you'll need a few decorations, games, and scrumptious food. But if you plan on taking the celebrations to the next level, consider picking a theme that matches the bride's interests. You'll need a good centre table, chairs, gifts, a dinner table, and a dedicated drinking area. As for decorations, consider installing a bachelor party balloon decoration to give an extra oomph to your event. You could either glue them to the wall or spread them across the floor so people can walk around kicking them.
Food is Very Important to a Successful Party
Food is a crucial element of a party's success. Depending on the kind of party you're throwing, you'll need to make the necessary arrangements. For instance, if you are arranging a cocktail party, make sure there are plenty of snacks, different flavours of chips, and an assortment of dips. If it is a dinner party, make sure there are enough options for guests, ranging from Chinese and Indian to Italian, Mexican, and Mughlai.
Drinks Are Equally Important
Guests coming for bachelorette parties expect a well-stocked bar. You'll need plenty of cocktails, mocktails, alcohol coolers, some lager, and a few light alcoholic drinks like white wine and champagne. But you must consider the bride's choice and make sure you know her favourite blend or drink. As for those who prefer soft drinks, make sure there are enough carbonated beverages.
Make Sure The Playlist is Interesting
Music helps set the mood for the party. You'll need a wide range of playlists or hire a DJ for some great party music. And if the budget permits, you could even arrange a karaoke session.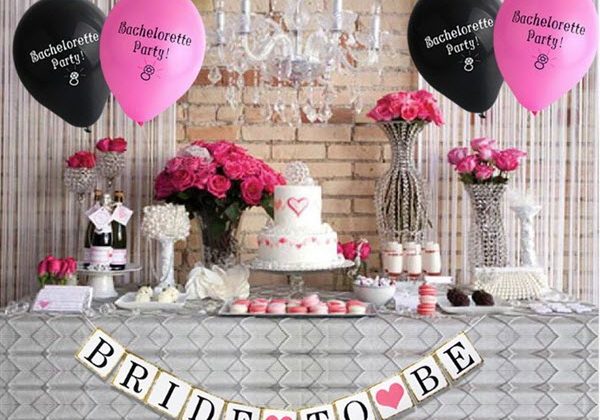 Arrange a Photobooth
Make sure there are plenty of photo ops with a designated photo booth and plenty of props. You could even arrange for these photos to be sent as return gifts for guests. But remember to inform guests about posting them on social media.
Cool Outfits
If it's a theme party, make sure everyone follows the dress code. But if you haven't picked up on a theme, remember not to overshadow the bride-to-be. You could also coordinate on a common colour.
Make Sure There Are Plenty of Games
What's a bachelorette party without games? Games like Truth or Dare help break the ice and keeps everyone interested.
Are you looking for bachelorette party supplies in Bangalore? visit us or Call us! We'll deliver them to your doorstep and even arrange the decorations for you.