Balloons have special magic that can instantly create a fun and bright atmosphere. They add colour to the atmosphere and bring out the child in everyone. Walking into a room full of balloons makes people excited and happy. Whatever the age, balloons are a good choice for decoration, especially for birthday parties. If you've always wondered how people come up with creative balloon designs, let us tell you a trade secret – making a balloon arch decoration at home isn't rocket science. All you need is time and a few dozen balloons. Here's how to make your balloon arch decoration in Bangalore:
You Need an Arch Design Layout
There are two types of balloon arches – helium-filled and air-filled. Before creating the arch, you must decide on the balloon type.
Helium-filled balloon arches look attractive and can be used to create designs that resemble a string of pearls. These balloons can be designed at the entrance for an extravagant welcome. You can also design the room in a simple single-line arch with helium-filled balloons, Link-O-Loon. But this is time-consuming.
This design also looks good around the centre table where the cake will be placed. Helium-filled balloons are best for indoor parties and can last for an entire day. But they do not last beyond 12 to 24 hours and are expensive compared to air-filled balloons.
You can also create a balloon arch decoration at home with air-filled balloons, especially if you want the balloons to last longer. They're also a sensible choice for outdoor parties. You need extra strength to blow all these balloons, not to mention some extraordinary lung capacity. Naturally, this is labour intensive and is an all-hands-on-deck job. And that is why we recommend an electric balloon inflator. You don't need to buy one; we offer them for rent at a reasonable price.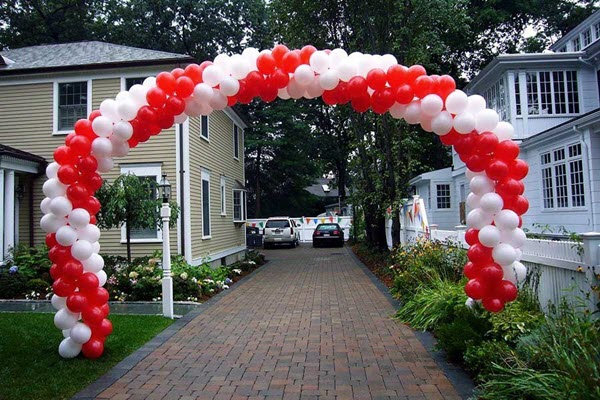 An air-filled balloon arch also requires a robust and flexible pipe or aluminium rod as a base for the design. The advantage of using this decoration is you can re-use the frame and the base. But blowing air-filled balloons for an arch takes a lot of prep time. We recommend starting early to avoid last-minute hassles.
You can also create a star-shaped arch with air-filled balloons to create a grand entrance to the venue or a background for a stage, making guests feel like they're walking through heaven. Hence the name, celestial arch. We hope these instructions will help you prepare an awesome balloon arch decoration at home. But if you don't have the time and energy to create one, visit us or Call us – we're one of the best balloon arch decorators in Bangalore.