Balloons are a lot of fun and a great item to decorate for a special event. However, while choosing balloons, there are certain things that you should understand, especially when it comes to different types of helium balloons.
When choosing Helium balloons, selecting a suitable material is very important. There are different kinds of helium balloons provided by many companies and made available in the market. They come in different shapes and sizes and are ideal for any kind of celebration. Select from a variety of helium-inflated balloons that include shaped Helium balloons, coloured helium balloons, custom printed balloons, etc. Below are some popular different types of helium balloons:
Round Helium Balloons
Round balloons are very common and widely used for birthday parties. They are made mostly of latex and come in a wide variety of sizes, from a five-inch balloon to twelve-inch and more. They are cheap, biodegradable, and easily available.
Heart Shape Balloons
Heart-shaped balloons are the most popular and are always in demand, especially on Valentine's Day. They are usually available in multiple colours but pink, white and red heart-shaped balloons are the most preferred, especially for engagements, weddings, and anniversary decor.
Coloured Helium Balloons
Helium balloons are available in amazing colors like Metallic Silver, Yellow, Gold, Red, etc. At times specific types of colors is in more demand for helium balloons party decoration ideas. For e.g. Demand for red-colored balloons during Valentine's Day, Metallic silver and gold for engagements, weddings, anniversary celebrations, etc.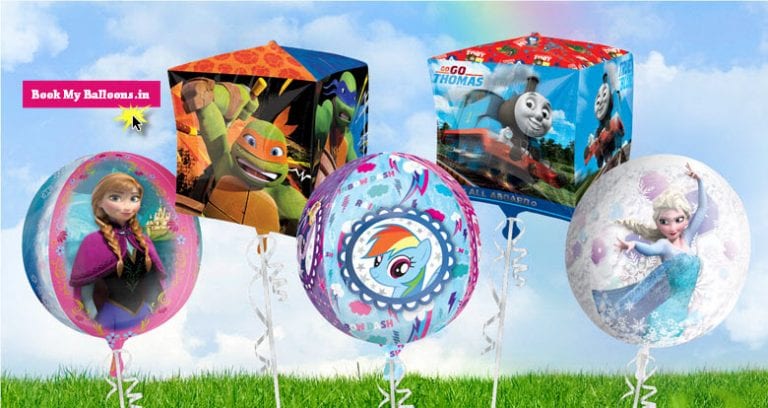 Balloons in Bundles
Sets of 3 to 5 balloons are used sometimes for decorations. The bundle of balloons comes tied up together with strings and can be placed at specific places at the party venue. The sets come as different-sized bunch depending on the requirement of the client.
Customized Balloons
For special occasions, balloons can be personalized by printing the name of the special person for whom the event is being organized or writing a special message or number for that occasion. One can even stick or print small emoticons as per the customer's choice to send a message across. Letters and small phrases can also be printed on the balloons. Party polka dot balloons of different colors are also widely popular and bring immense joy at the event.
Special Character Balloons
Children love special animated characters on balloons, especially for birthday parties. Helium balloons are available for special characters like Donald Duck, Mickey Mouse, etc. These are a great source of entertainment for little kids as they simply love to play with them. Additionally, they are durable and safe as they are non-allergenic.
Get in touch with www.bookmyballoons.in or visit us as we are the best helium balloon suppliers in Bangalore. We will be happy to help you with our expertise in implementing decorations using helium balloon varieties with perfection and on time.