Do you intend to host an event with balloon decorations? You will be required to put in lots of time and effort, but the decorations will get highlighted as a beautiful statement piece in your celebration if done well. Balloons come in a variety of shapes, colours and textures. You can connect with theme party balloon decorators or create a theme yourself by using options from helium or regular, matt or chrome, numeric or alphabets. If you are planning a birthday, wedding, baby shower, or anniversary celebration, the right kind of balloon decorations can enhance your choice of theme for the event. Here are a few balloon decoration ideas for party planning:
1. Penguin Balloons
Most kids want a theme birthday party, and animal or bird-shaped balloons play a significant role in such decorations. One of the most memorable and unique balloons is Penguins, which offer the party a happy and fun element. Kids love the peppy penguin shapes as they can hold and cuddle them. Penguin balloons can later get used as outdoor set-ups or Halloween and Christmas décor.
2. Teenage Mutant Balloons
Children, in general, are fans of Teenage Mutant Ninja Turtles, which has been a trendy choice for kids' birthday parties. The Teenage Mutant Ninja Turtle balloons are popular at action hero-themed events. With a few DIY handmade paper eyes, you can create a customized balloon with a fun look or get in touch with birthday party balloon decorators for a professional set-up.
3. Balloons and Flowers
Nothing can define celebrations the way a good balloon and flower décor does. The combination complements every event: a wedding, a kid's party, or an elegant baby shower event. Create dazzling set-ups with various colours and themes that will mesmerize the guests.
4. Striped Balloons
As an unusual pattern, Striped balloons can create a statement by providing a different visual effect. Make a pattern with specific colours of tapes, as per the theme, to make elegant stripes on the balloons. The striped balloons work very well for corporate events or similar professional events. Get your creative balloon decor ideas flowing.
5. Number Balloons
The readymade number balloons are already available in the market. But you can create a unique design by using small-sized balloons and joining them to create a number/number of your choice. You can stick them on the backdrop wall and surround the number with beautiful flowers to give it a lovely touch. The various colour combinations and themes will make the backdrop look unique, making your kid feel special.
6. Feather Filled Balloons
Transparent balloons and feathers can create a luxurious and glamorous look and a very different concept. Just add feathers inside the balloons and then inflate them. Add a shiny and long ribbon thread to give it a classy look. The feather-filled balloons are excellent balloon decoration ideas for party and are perfect for events ranging from kids' birthdays to corporate events. It offers the feel of softness to the decor.
7. Balloons Sculpture
Beautiful Balloon sculptures can create awe and respect in the audience. The colourful art pieces are guaranteed to attract the attention of the young and old. One needs to have a knack for creating masterful works with small balloons. The sculptures can be in numbers or as per the party's theme.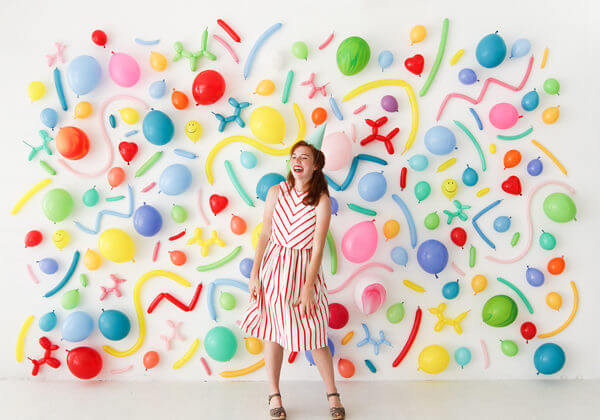 8. Balloon Solar System
A solar system made with the help of balloons would be an apt theme for a party for an aspiring astronaut or a solar system enthusiast. Use coloured balloons of different sizes to display the various planets and the Sun. Inflate long balloons and curve them to make rings around a giant balloon for creating Saturn. This theme will make the party memorable for you and your guests.
9. Halloween Balloons
Balloons with different scary effects and themes will be an excellent idea for a Halloween party. You may choose to draw scary monsters or use Halloween stickers to go on the balloons. Decorate all the different sections of the room with tricky themes on balloons that the participants will find unique and fun.
Get in touch with www.bookmyballoons.in for balloon theme decoration in Bangalore and any other event services. We will be happy to help you with our expertise in implementing decorations of your choice with perfection and on time.
Are you looking for birthday party supplies in Bangalore? visit us or Call us for a free consultation!