There's a common assumption that most balloon decorations are helium-based to keep the set-up looking neat and decorative. What is not known is that balloon decorations with helium are expensive, and the balloons do not stay up for long. You should try to make balloon decorations without helium which look just as stunning. Air-filled balloons tend to be a better option as, unlike helium, they can be inflated ahead of time and turn out to be very cost-effective. Here are some simple balloon decoration ideas without helium:
Balloon Garlands
Balloon garland as a backdrop or entrance décor is the latest trend all over social media nowadays. With a colour combination and theme in mind, create a garland of air-filled balloons with the help of garland tape or ribbon. Use the ribbon to tie all the balloons together and create a long garland required to decorate the entrance area of your party area.
Balloon Wall
An entire wall of colourful balloons can make for an exciting backdrop and act as a photo booth. Use bright balloon decoration ideas without helium as backdrops for kids' parties, whereas metallic balloon walls for formal events or celebrations can add to the fun. Create a balloon wall in an area where the guests can click their pictures and capture their memorable moments on camera.
Balloon Table Decor
Food tables usually are the centre point of any event. Decorating with balloons without helium is much safer near food. Accessorize the table and the ends of the runner with some colourful balloons to create an inviting table. You can use various ribbons around the flowers and make the table look elegant.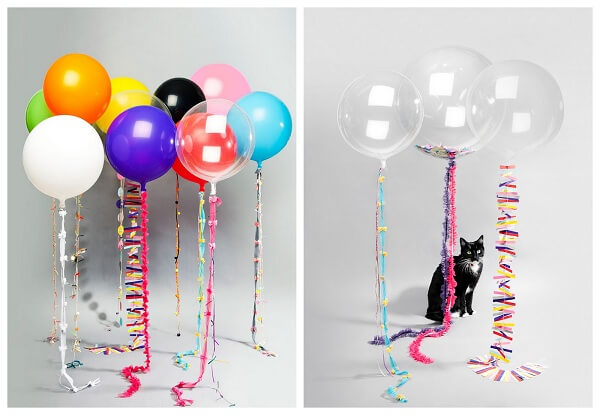 Ceiling Balloons
Balloons on the ceiling could be all the decor you need for any event, especially in case of limited party space. The hanging air-balloon look is just as effective as the helium one. The trick is to use double masking tape and then stick the top of the balloon to the ceiling to look like it is floating. The attached Curling ribbon streamers give it a classy look.
Balloon decoration is getting popular these days, and people use balloons creatively for weddings and birthdays and with camera tricks and flying drones. Balloon decoration services in Bangalore use bunches of air-filled balloons to make the overall balloon decoration look even more beautiful.
Get in touch with www.bookmyballoons.in or visit us for balloon decoration without helium or other event-related services. We will be happy to help you with our expertise in implementing decorations of your choice with perfection and on time.