Planning a fantastic birthday party for your kids requires attention to detail in the pre-planning stage. If you need creative and unique decor yet cost-effective, simple balloon decoration ideas are the way to go. Balloons are versatile enough for creating different props and backdrops to make the party memorable for your kids. If your loving kid's birthday party is due this season and you are looking for balloon decorators, Bangalore has inexpensive event teams that can cater to your décor needs.
Alternatively, you may use these 10 simple birthday party balloon decoration ideas that would make your kids' day special.
1. Balloon Garden
An open-air garden party is always a great idea since it allows kids enough space to run around and has enough space for decoration and a birthday set-up. Decorate your garden with colourful balloons as per your theme. Aoon arch at the entrance will make your guests feel welcomed. If you are looking at a party ball balloon decoration in Bangalore like a Fairy-tale set-up or Jungle theme, the Balloon Garden idea in an open garden space makes it memorable.
2. Garland
Balloon garland as a backdrop or entrance décor is the latest trend all over social media nowadays. With a colour combination and theme in mind, create a garland of balloons with the help of garland tape or ribbon. Use the ribbon to tie all the balloons together and create a long garland required to decorate the entrance area of your party area.
3. Balloon Attached Return Gifts
Balloons can also get used as a decorative element on the return gift. Kids love to take back balloons home after a party, and this would be a way to make it happen. Tie the balloons over the return gifts with the kids' names, making them personalized and exciting.
4. Balloon Cone
Ice-cream cones are always on any kid's list of favourites. Try replicating this look with balloons to attract kids' attention and make your kids' party colourful. Cone-shaped balloons are unique but can get made at home easily. You need to inflate colourful balloons and stick them to the cone-shaped cups to give them an ice-cream look. Kids will love to hold on to it and take pictures.
5. Balloon Wall
An entire wall of colourful balloons can make for an exciting backdrop and act as a photo booth. Colourful balloons look good as backdrops for kids' parties, whereas metallic balloon walls for formal events or celebrations can add to the fun. Create a balloon wall in an area where the guests can click their pictures and capture their memorable moments on camera.
6. Decorative Table Runner
There's a good chance of a tablecloth getting messy at a birthday party, especially during cake-cutting. Avoid ruining an expensive table cloth. Instead, it is best to buy wrapping paper with a good design and use it as a table runner. Decorate the table and the ends of the runner with some colourful balloons to create an inviting table.
7. Ceiling Decoration
Balloons on the ceiling could be all the decor you need for any event, especially in case of limited party space. The attached Curling ribbon streamers give it a classy look. The look of the ceiling can differ as per the choice of balloons. Different colours, textures, and patterns will work as various themes.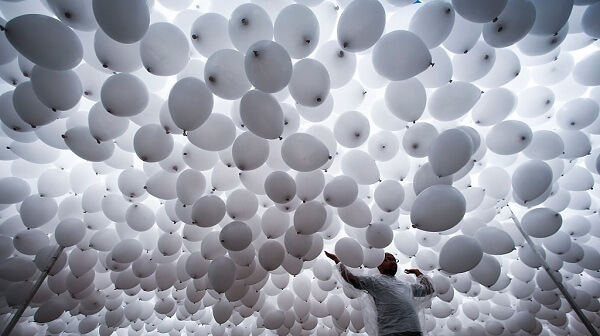 8. Glowing Balloons
Glowing balloons are the most magical way of decoration, especially for evening and night events. Just insert glow sticks inside the balloons before inflating and tying them. Create an enticing lit-up balloon corner or a backdrop that will also work as a photo booth.
9. Personalized Balloons
Guests, both young and old, always appreciate personalized gifts. Create customized labels with guest names and stick them on the balloons. The balloons can then be attached to the gifts for guests to carry back with them.
10. Frozen Balloons
A unique way to cool your refreshments is to create ice using frozen balloons. Pour water into balloons and freeze them till the time of the event. Slit open the balloons and use the different balloon-shaped ice to decorate the refreshment area or an ice bucket for the bottles.
Get in touch with www.bookmyballoons.in or visit us for party balloon decoration planners or other event services. We will be happy to help you with our expertise in implementing decorations of your choice with perfection and on time.