Birthdays can be turned into an extra special occasion with thorough planning and preparations. Balloons have become a symbol of joyfulness and balloon décor has become an indispensable part of celebrations. Many balloon decoration services in Bangalore help you to plan a theme, design, create and install spectacular balloon décor as per your birthday party requirements.
Professional event organizers have the specialisation of working on different balloon décor themes. Given below are a few unique and innovative luxury birthday balloon decoration that turns a dull place into a happening venue.
Customised Luxury Balloon Décor:
When you have a good budget, the decorators can create any theme decorations as per your choice. Photo booth decorations allow hosts and guests to have a designated place for taking selfies. Ring decorations can be created as per your choice of coloured balloons. You may choose to follow a colour theme or a décor theme. Personalising the event by using printed names or photos of the person on the balloon will make them feel special.
Organic Balloon Décor:
Organic balloon decor is designed using an abstract form. It's an arrangement of balloons of various colours and sizes that make for an interesting structure that looks stunning. It is very different from the traditional balloon décor. Organic decor can be used for a variety of arrangements like balloon columns, arches, walls, and garlands.
Balloon Drops:
Balloon drop is an interesting concept, specially designed to celebrate birthday milestones. The drop refers to the release of inflated balloons from a net attached to the ceiling or from a higher platform to mark the key moment. Depending on the size of the venue and the budget, balloon drops can be created in various size combinations and quantities of balloons.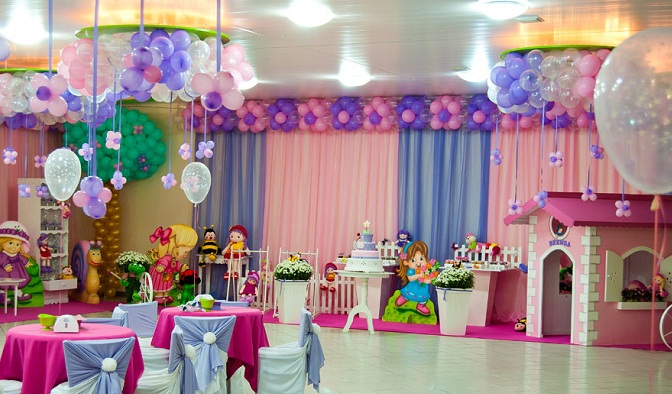 Balloon Topiaries:
A traditional style that's still classy is a balloon cluster, containing twelve balloons. Many forms of balloon topiaries can be created in different sizes from hanging topiary balls to custom columns.
Balloon Sculpture:
A favourite with kids, balloon sculptures are custom balloon designs in the shape of things or characters. Balloon sculptures can be any variety of items made of balloons, from flowers and animals to cartoon characters and popular objects. Professional decorators can create such sculptures for party events and balloon decorations.
Luxury balloon decorations come at a premium price. While a simple decoration can cost up to INR 3000, a fancy decoration can cost anywhere between the ranges of 5k to 20k. Once you inform your budget the party organizers, they work out a suitable proposal.
Due to time and space constraints experienced by users, the demand for birthday organizers has increased over some time. Get in touch with www.bookmyballoons.in or visit us for a luxury birthday balloon decoration service. We will be happy to help you with our expertise in implementing decorations with perfection and on time.