Bubble Balloons, see-through plastic balloons made from stretchy material give a user an exemplary experience. These balloons when inflated properly give an impression of beach balloons. Available in a wide range of 15 to 24 inches, one can decorate and give his or her party a completely new look. Many licensed characters are printed on these bubble balloons that easily catch the attention of the viewers.
The Happiness of the viewers is guaranteed provided the bubble balloon is inflated seamlessly. Let us know to see the different varieties of bubble balloons available in the market:
Single Bubble Balloon
Single Bubble Ballons are readily available in the size of 22″ and tend to float for approx. 15-25days. You can get these balloons in beautiful licensed characters, Happy Birthday logos, occasional designs, and much more.
Double Bubble Balloon
As the name suggests, the Double bubble Balloon here, means a balloon inside a balloon. Available in an astonishing 24″ size leaves everyone surprised to question how did the inflator fill it? These balloons come along with an attached ribbon.
Deco Bubble Balloon
These bubble balloons are one of the kinds. Considered best for special occasions and has immense creativity. A professional balloon designer can only create such a kind of bubble balloon. You can find décor balloons in sizes 20″ and 24″. 20" bubble balloons can float for approx. 7-10 days whereas 24″ balloon size can flat for up to 20 to 35 days. This vast difference in floating time is due to the type of balloon used and the number of balloons used in creating a decorative design.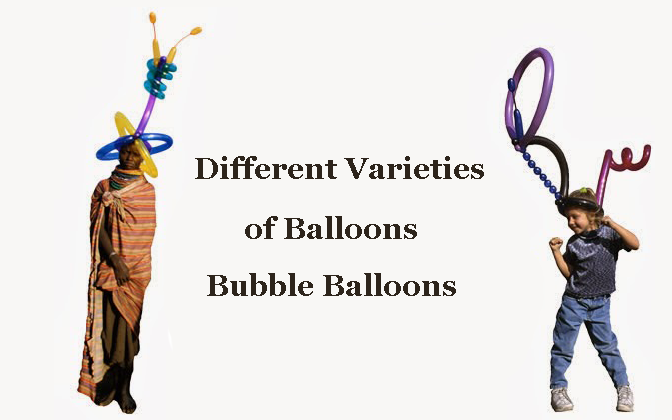 Air Bubble Balloon
This is a new category of bubble balloons launched in the running year 2016 only and is available in 12″ size only. The smaller size is full of fun and enthusiasm. You can buy these Air Balloons from the market in packs of 10. Mostly, people use Air Bubble Balloon to display their store's products and services and do promotion of the business through it.
Caution
It is advised to wear ear and eye protection devices so that no harm is done to the person inflating balloons.
The floating time of a bubble balloon strictly depends on how much air you use to inflate it. It is always recommended to avoid over and under-inflation in order to increase the floating time of your balloon. There are certain natural phenomena that you can't control like temperature and atmospheric pressure.
Especially for Deco Bubbles Balloons, float time depends on the amount and types of balloons placed inside the main balloon. No one is perfect enough to inflate a balloon accurately and most of us inflate to a level where the creases of the balloon start disappearing. If you want to increase the floating tendency of any balloon you can add slight helium or balloon gas. Approximate Helium/balloon gas that can be added to bubble balloons:
20″ Deco Bubble approx. 1 cu.ft. uses 0.0282 m3
24″ Deco Bubble approx. 1.5 cu.ft. uses 0.0425 m3