Monsoon brings us closer to our childhood days. When we used to feel those tiny water droplets on our face, love the heavenly earthy fragrance, and dance with friends and family members. No one can actually bring those days back but we can experience the same joy through the eyes of our kids. Why not throw a rain party for your kids this Monsoon season?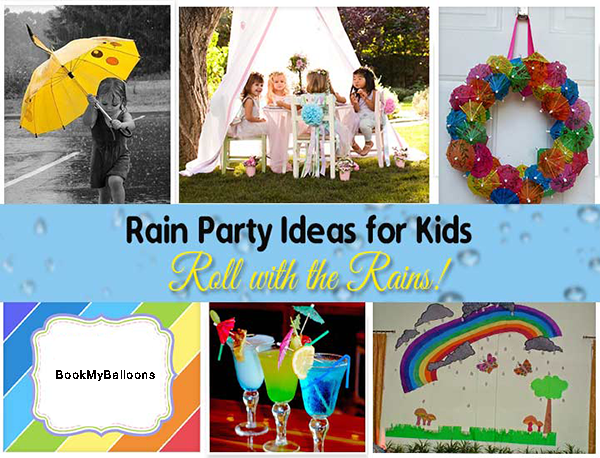 Organize Theme Party
Kids prefer cartoon characters like Doraemon. You can keep a theme for your kid's party and mention the same in the invitations you send out to the kids who would be attending your rain party. Make sure you organize it in a safe place so that your theme party is not spoiled due to heavy rain.
Organize Games That Brings Fun to the kid's Party
Freeze Dance Game: This is a musical game where you will ask all kids to dance in the party room and you will play a loud music. After some time, when you stop the music, the slowest kid to stop his or her dance will be out and rest of the kid will continue playing the game. Likewise, only one kid will be left who will be declared the winner of the game. You can introduce variations in the game by asking kids to dance, or exchange pillows, or any other thing that can keep them engaged.
There are plenty of other games that you can ask kids to play like following the leader. Here, you will become the leader of the game or you may ask any intelligent kid to be the one so that rest of the kids can either follow you or that kid. The best kid copying will be declared the winner at the end of the game.
Order Good Quality Food
Quality, hygiene, and taste are what matters most when it comes to inviting kids for your rain party. Although we all know that the rainwater is the purest form of water but when it mixes with other impurities, it can result in infections. So, it is better you order packed food that doesn't get contaminated with the water droplets coming from the rain. You can serve packed burgers, snacks, and many other eatables but don't forget to choose food that kids love the most. It is generally seen that elders prefer to have proper lunch or dinner party but kids mostly love snacks and other stuff so keep your menu but sweet enough for the kids.
Return Gifts is a Must
Don't forget to give return gifts to each and every kid who comes to join your rain party. Kids eagerly wait for the gift at the end of your party and if you are skipping this part then believe us; you are leaving one of the important essences of your party.
Hopefully, all of you will find these ideas refreshing enough to celebrate this monsoon with your kids and experience the same fun and excitement, you felt in your childhood days.