Balloon Decorators usually plan the party set-ups and the tools required way ahead of time. Along with this, they are also aware of certain safety protocols that they need to follow, especially for events that are meant for kids. Here are some tips that most birthday party organisers in Bangalore follow:
1. Carry Appropriate Tools
Using tools like knives and cutters might be unsafe for party decorations. Instead, choose to carry a pair of scissors that are safer while cutting supplies for décor. Using the right balloon inflators might help when you have to inflate a room full of balloons.
2. Be Alert
Before creating the décor, it's best to be aware of the surroundings. One of the most important safety tips for balloon decorators is to make sure the floor is dry enough to keep all your party supplies. If you see a wet floor sign near the party hall, make sure that you walk and carry your supplies carefully. This would prevent your accidental fall.
3. Carry Your Water Bottle
As a balloon decorator, you would be required to be present at the venue many hours before the party begins. The venue might be just a bare shell with no water facility close by and eventually can get very hot and tiring. It is, therefore, better to carry your water bottle to the venue so that you keep yourself hydrated during the process.
4. Carry Your Ladder
Most balloon decorators nowadays are expected to decorate the ceilings and tall pillars with balloons, drapes, clothes, buntings, pompoms, etc. It is best not to expect to find ladders at the venue, as most places may not have one. Always ask someone to hold your ladder as you decorate to avoid accidental falls.
5. Take Precautions with Hydrogen Balloons
Hydrogen gas comes cheaper and lighter than Helium and that's why many balloon decorators prefer it for inflating balloons. But it's important to note that hydrogen is a flammable gas, so from a kid's party safety tips perspective, you need to keep your balloons away from inflammable substances like lamps, candles, cigarettes, matchboxes, etc.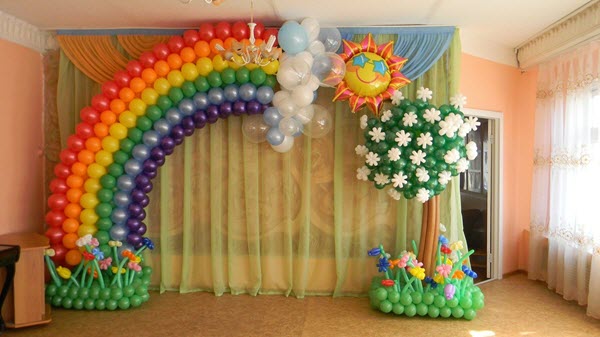 6. Avoid Electrical Damage
If you find some electrical damage or open wires while decorating a party hall, as safety for kids' birthday parties, you must immediately inform the organizers or the managers to promptly rectify the issue. It is always best to be mindful of the wires and the lighting systems of the venue, to keep yourself safe from electrocution.
7. Respect Time Management
For a party decorator, time is money. The entire decoration must be completed before the guests start arriving. It is, therefore, crucial to arrive at the party hall well before the guests. With enough time on your hands, you can work efficiently and also have time in your hands to rework things that might go wrong last minute. Early preparation helps keep the stress away and finish your work in time, culminating finally in happy customers.
Given above are 7 birthday party safety tips that you must consider during balloon decoration. Get in touch with www.bookmyballoons.in or visit us for event-related services. We will be happy to help you with our expertise in implementing decorations of your choice with perfection and on time.