Parties and balloons go hand in hand as they are suitable for all ages. But balloon animal party theme ideas are favourite amongst toddlers and younger kids. Given below are 5 balloon animals you can create at your parties and amaze young guests with your talent.
1. Animal-Shaped Balloons
Animal-shaped balloons make for an exciting activity for kids. All of these shapes can be easily made at home using inflated colourful long balloons. Try the dog-shaped balloon first with three basic balloon twists. The first twist will be at two inches forming the snout of the dog. The second and third twists will be around an inch each to form the dog's ears. Similarly twist parts of the balloon to create the four limbs. Once you create the dog balloon successfully, try your hand at other balloon animal shapes like giraffe or mouse using balloon animal party tips.
2. Balloon Swords
Balloon swords are the most simple and basic structures in balloon design. Kids who want other shapes in the themed birthday party with balloon animals will love having a trendy balloon sword to play with. A good basic balloon sword starts with two balloons, one long and one short. Just braid the small balloon 3-4 inches from one end of the longer balloon to create a decorative hilt that the kids can hold and have fun with.
3. Flower Balloon
Flower balloons are in a similar category to sword balloons. Use balloons of different colours and sizes to create flower designs. Start with two balloon loops on a twisted axis to create petals above and work similarly to create leaves underneath.
4. Poodle Balloon
Poodle balloons are to be tried after you have managed to create other balloon animals. Generally, for balloon animal party decorations in Bangalore, professionals are hired to create really good ones. If you get good at inflating and twisting balloons, then you may give it a try. Invest in a balloon inflated pump to create balloon animals quickly and effortlessly.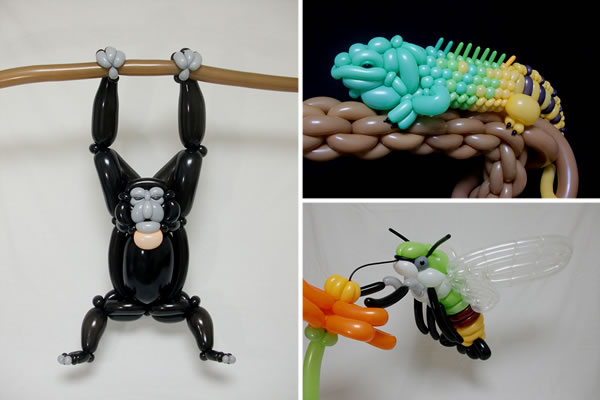 5. Balloon Animal Hat
Colourful balloon hats can be a popular choice at kids' parties. Balloon hats with animal designs are in demand these days. The hat shapes vary in difficulty as some are simple and fast while others are more colourful and intricate. Work patiently and improve your skills on balloon animal shapes. Later integrate the learnt shapes on the balloon hats to capture the attention of the crowd.
Refer to the above 5 animal balloon shapes for your upcoming balloon animal party ideas. If you need professional balloon decorators in Bangalore to create these amazing shapes, get in touch with www.bookmyballoons.in or visit us. We are known for our timely services and expertise in implementing decorations of your choice with perfection for all event-related services.