Baby Showers are one of the most important milestones in a couple's life. The baby shower party décor is usually adorable based on the neutral or pastel colour theme. The baby shower balloon decoration can easily turn an ordinary space into a luxurious venue through its elegant masterpieces. We are here with some great baby shower decoration ideas that can make your baby shower a memorable moment for all.
1. Baby Shower Decoration
A baby shower decoration establishes a warm and loving ambiance at the venue. You may choose to go with a specific color scheme or go neutral with the theme. If you do not want to adhere to any specific colors, mix balloons of various sizes, textures, and colors like pink, grey, peach, and silver to create an elegant balloon garland display. You may choose to add flowers to give it more texture and depth.
2. Gift Wrap Present
An expectant mother needs a lot of love, care, and support. Every guest usually carries gifts for the mom-to-be. Let the expecting mother know that you care by gift-wrapping the gifts with colorful paper. Create a space for all the guests to leave their gifts on a table and let the mother open and embrace the love that the guests want to share with her.
3. Decorate The Mom-to-Be Room
Traditionally, an expectant mother's room was decorated so that it could replace the nervousness with happiness around her. Decorate her room using some adorable balloon decor, smiling baby photos, cute cartoon characters, framed mother-baby quotes, and other things. The attractive things around her will help in sending positive vibes to the baby as well.
4. A Mix of Tradition and Modern Outlook
Traditional baby showers had some important rituals for the new parents to be. Conceptualise baby shower decoration ideas to incorporate the traditional and modern ways to make the most of the event. Decorate the center table with a balloon décor masterpiece where the expectant mother would be pictured as the rituals are taking place. Alternatively, you can create wall décor using balloons where all can play baby shower-related games.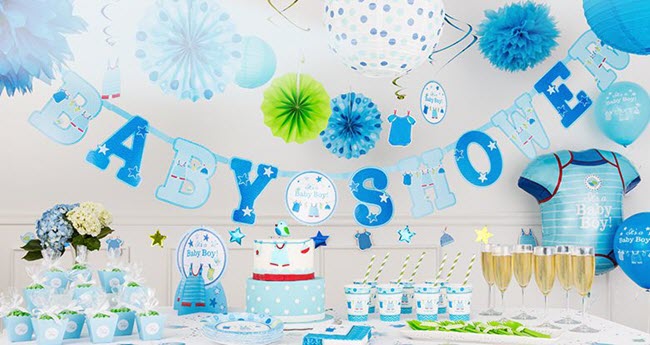 5. Food Area Décor
No event is complete without food. You can also hire baby shower balloon decoration services in Bangalore to decorate the buffet area and specify the names next to the dishes for convenience. It is best to avoid junk food and focus on healthy alternatives when you finalize your menu.
Here are the 5 decorative tips for a great baby shower. Welcome the baby with an open heart. Get in touch with www.bookmyballoons.in or visit us. We will be happy to help you with our expertise in implementing decorations of your choice with perfection and on time for baby shower balloon decoration services in Bangalore and other event-related services.