Along with excitement and happiness, New Year sets us on the path of new hope and opportunities. We all want to celebrate the new beginnings by throwing a fun and memorable party. The New-Year theme decor plays a significant role in setting the vibe for the party. Balloon decorations for the new year party are the most cost-effective way to make your venue feel inviting. Here are some DIY New year party balloon decoration ideas to inspire you.
1. Colorful Large-Sized Balloons
As the main wall décor, create a setup displaying the new year flowing down a giant balloon. All you need to do is to inflate a large-size metallic or confetti balloon and hang the number balloon of the upcoming year as its tail. Decorate the setup with curled ribbons and smaller balloons. Get creative and decorate this balloon yourself or call up one of the new year party balloon decorators in Bangalore to do this job for you.
2. Large-Size Balloon Clock
Create a wall décor to replicate a large clock for counting down the hours and minutes of the New Year. You can inflate 12 large-sized balloons using confetti, glowing sticks, sweets, etc. Stick or draw numbers from 1 to 12 on each balloon. Secure the balloons onto the wall with double-sided tape. Create hands on the clock using cardboard and stick them in the center of the balloon wall clock. As you start the countdown to midnight, pop one balloon every hour of the evening. Make sure you click plenty of pictures with the New Year party balloon decoration to mark your memorable times.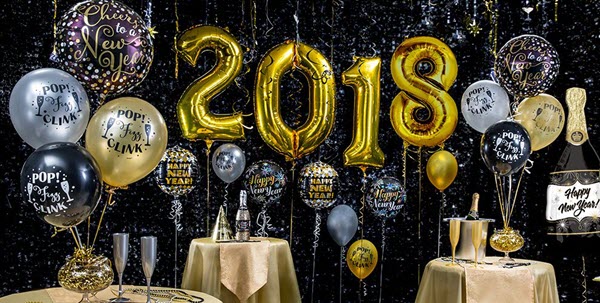 3. Create an Attractive Photo Booth
A New Year celebration means having a memorable time with your friends and family. Clicking pictures of all the fun and exciting moments helps to keep memories of the celebration alive. An attractive photo booth can work wonders at a new year's party, where you can pose with all your guests and share beautiful pictures of the New Year with them the next day. Use metallic and Confetti-filled balloons along with stars, curly ribbons, and fringe to create an ultra-glam backdrop that would be perfect for an NYE party.
Wrapping Up
The New Year party balloon decoration ideas mentioned above will help celebrate your New Year's Eve with full zest. Get in touch with www.bookmyballoons.in or visit us for New year party balloon suppliers in Bangalore or other event-related services. We will be happy to help you with our expertise in implementing decorations of your choice with perfection and on time.