Balloon games are always great fun for kids, whether at a birthday party, at home, or at school during a class activity. Due to the simple and non-fussy nature of balloons, kids find them very cheerful and fun. Kids always tend to love balloons, no matter what the situation. The magic of balloons is way too profound for young kids who can hardly resist them. A good thing about balloons is that they not only keep the kids entertained but also help improve their gross motor skills, focus, and eye-hand coordination.
Though kids will love a balloon surprise any day, if you add creativity, you will see them appreciate it much more. You can do some creative things using kids' balloon activities, which could make your child happy and put a really big smile on their face.
Creative Shapes
Organize a kids' party with lots of colourful balloons to cheer everyone up. Hand over a balloon to each kid and help them turn them into giant Lollipops by covering them with cellophane and supporting them with sticks. You may also help the kids create unique shapes of balloons by using paper, glue, and scissors. You can make small balloons look like vegetables. A fun way to dress up your kid as an apple tree is by making him wear a green t-shirt that's covered with small red balloons.
Make Drums
To make drums, collect some empty containers and remove their lid using the safety can opener. Get some unused balloons and cut the mouth of the balloon wide enough to stretch it tight over the open top of the container. Secure the balloon in the container with rubber bands and now you have drums ready for the kids to play.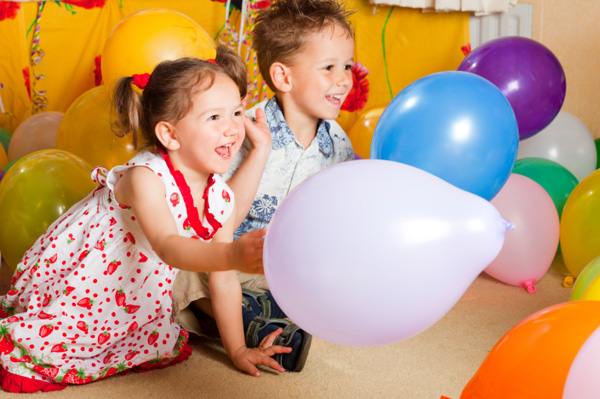 Refurbish Old Toys
Refurbish your kids' old dolls with balloons. Cut parts of colourful balloons to create new sets of clothes that can be stretched over the old dolls. You can also decorate using sparkling ribbon to make the dolls look more attractive. Similarly, you can use balloons to cover your children's cars and toys to make them look as good as new. Teaching how to reuse old toys using balloons can turn out to be one of the best balloon games for kids.
Money Holder
A creative way to gift money to your kids is to simply insert some money in the balloons and later inflate them with air. The kids will love this innovative way and will appreciate the efforts you have put in to make them happy.
Balloon decorations are the most inexpensive and fun way to use innovative ideas and entertain the kids. Use your creativity with balloons to express your love, care, and attention to your kids and let them enjoy an endless array of games and activities.
If you too have any requirements for kids' balloon activities, then get in touch with Book My Balloons, by calling 8088880011 or 8088880022 for our latest products and services. Visit us!