Balloons signify happiness and liveliness and any form of happy surprise brings instant joy. That's the reason why balloons are an integral part of any happy celebration, especially if it's a romantic one. Romantic balloon surprise ideas can liven up your lover's mood and create memories that last a lifetime.
Try out some of these fun romantic balloon surprise ideas for your special someone and see them cheer up.
Messages of Love
When you struggle to express your emotions to your loved ones, using balloons as your messenger can be the best way to go. You can write down your feelings in the form of a secret message and hide them inside the balloons. Send your personalised love note in the form of a decorative balloon bunch with instructions to burst it open and read the heartfelt note. If you're planning to hand in the balloons personally, then make them look attractive by filling them with confetti so that your loved one feels special and happy.
Romantic Room
To create a romantic ambiance in a surprise room balloon decoration for a lover, use heart-shaped balloons for the best effect. Decorate the entire room by filling it up with balloons, so that when the door opens, your partner will see the balloons float around. Alternatively, you can stick red balloons on the entire ceiling to make the room look elegant and a symbol of your love.
Gift Box of Love
Balloon gift box ideas are bound to bring cheer to the recipient. Get your partner a loving gift and place it in a box along with tiny and cute balloons. You can also add chocolates and other goodies to the box. Gift wrap the box along with a romantic message and see your loved one get swiped off their feet as they watch a flurry of balloons fly out of the box when it gets opened. For a special loving touch, you can attach red heart-shaped balloons to the gift box.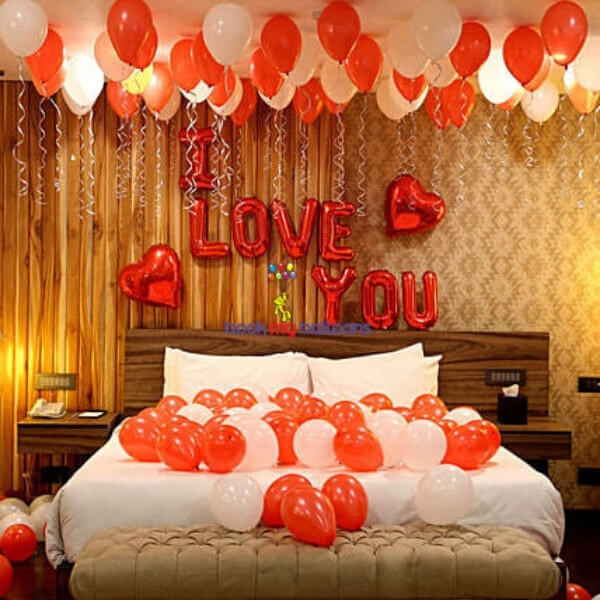 Balloon-Gift Combo
If you live away from your lover and want to do something that's extra special for them, then you can go for the heart shape balloon surprise at their workplace or home. Select a stunning bouquet of balloons for the event and choose a gift that your partner would love to get. You can get balloons that have prints like I Love You, Happy Valentine's Day, Be Mine, etc. to make your partner feel special and loved. You can add their favorite candies and flowers to create a bouquet with eye-catching balloons and tie them with some glossy satin ribbons. This complete balloon-gift combo will take your partner pleasantly by surprise and make them feel pampered.
There are lots of simple things you can do with balloons to make your lover happy. If you're going for a date, you can hand them a balloon bouquet, which may seem childish, but it makes the recipient appreciate your sweet and cute gesture. You can also decide to decorate or fill your car with interesting balloons or just decorate your house when they plan to visit.
Use your creativity with balloons to use romantic ideas to express your love. You can also call 8088880011 or 8088880022 for more romantic balloon surprise ideas as well as our latest products and Balloon Decoration Services in Bangalore. Visit us!