Party and balloons go hand in hand. Bright, colourful balloons make for a great stage décor. Balloons turn into a cost-effective solution for event organizers while working on a tight budget. Balloons are a significant part of kids' birthday decoration ideas as they can be used in various areas and games and return gifts.
1. Balloons Invitations
Surprise your guests with an unusual party invitation using balloons. You can tailor these invites for birthdays or any festive event by changing the balloon colours and the confetti inside it. You can insert the invite along with confetti and treats inside the balloon. Place the balloon inside a decorative box or bag and send it to your guests. Your guests will enjoy the surprise when they pop the balloon and will always find such a party invites memorable! Many birthday decoration services for kids assist in making these invitations.
2. Balloon Paint activity
Balloon decoration for kids' parties has become a norm. Instead, as part of the event, a balloon painting activity can keep kids engrossed for a long time. Kids love to get creative, especially if there's a competition.
3. One-Minute Game
One-minute games are popular with all age groups. Fun balloon party game planners invite all participants and give them one minute to inflate as many balloons as possible. The one who inflates the most number of balloons becomes the winner.
4. Balloon with Food Decoration
The main party stage usually gets decorated with a lot of thought, but the food area gets overlooked. Balloons are the most cost-effective way to decorate the catering area to make it look more inviting for guests.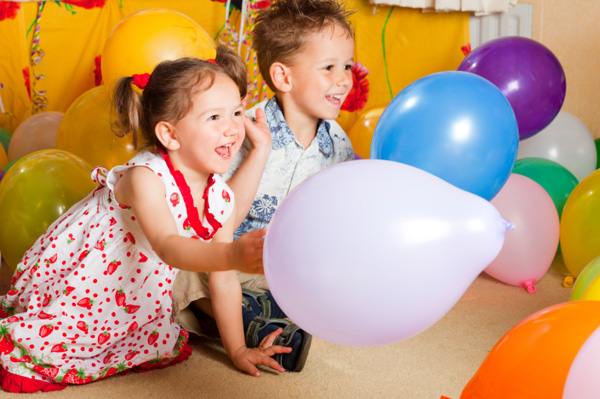 5. Balloons with Return Gift
Kids love surprises and also adore balloons. Combine the two and create a memorable return gift. You can inflate some colourful balloons and hang them over the return gift with the child's name tag.
Get in touch with us for kids' birthday party balloon decoration and any other event services. We will be happy to help you with our expertise in implementing decorations of your choice with perfection and on time.
Are you looking for more Fun Ideas for Kid's Party Balloons? visit us or Call us!, if you're looking for birthday balloon decorators in Bangalore, call us to make your dreams a reality.