Nowadays, balloons are not just considered toys for children but also significant items in decorations. Balloon decorations are a quick and cost-effective way to turn a simple room into a party venue. If you're planning a birthday party at home that is affordable yet elegant, we recommend the following home balloon decoration ideas.
Themed Parties
If you are planning a simple elegant theme decoration party at home, then go for simple balloon decoration. Balloons can be easily transformed into any theme you like. For young kids, theme party balloon decorations at home like candies, fruits, vegetables or trees, etc. can be very colourful and entertaining. Turn balloons into giant Lollipops by covering them with cellophane and adding a stick below. Get crafty with paper, glue, and scissors, make small balloons look like vegetables, and then hang them in the room by sewing thread through the tied ends of the balloons. Kids love to dress up and run around like apple trees, just make them wear a green T-shirt, covered with small red balloons.
Decorate Walls & Corners
Beautify your room by placing balloons along with some interesting objects to make them attractive. You can tie balloons with sparkly ribbons to the photo frames, adding a creative touch to your memories. You can attach balloons to the fan and curtain rods to make the room beautiful. If it's an outdoor space, attach balloons to a swing or bench in your garden.  You can also choose to use colourful strings for your child's old dolls and figurines and place them by the wall.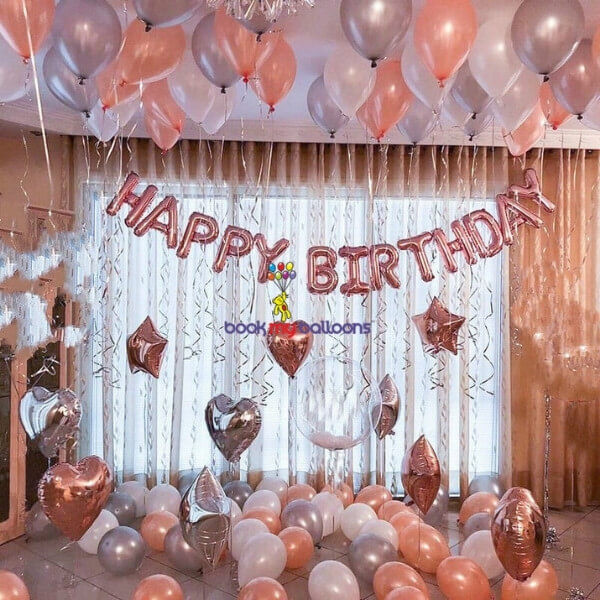 Wrap Around
One of the simple home balloon decoration ideas is to wrap colourful balloons around various household items and simply increase the beauty of those objects. For example, cut the mouth of the balloons and use them to tightly wrap jars and containers. You can also wrap balloons around old mugs and reuse them as colourful pieces of décor.
Peculiar Decorations
Spray metallic paints on balloons and increase their beauty and overall look. You can also paste paper stripes and sparkling ribbons on the balloons as per the theme and use them at parties. You can wrap balloons on top of your flower pots and make them look fresh and new. An interesting way to use balloons is as a mold for wrapping jute rope, paper, etc. Later remove the balloon and place a light bulb inside them to give a divine look to your décor when lit.
You can use balloons with creativity and make lots of things. Hope you like these simple yet effective ways of birthday balloon decoration and implement the ideas in your house. Get in touch with www.bookmyballoons.in for any home birthday balloon decoration in Bangalore. We will be happy to help you with our expertise in implementing decorations of your choice with perfection and on time. Are you looking for the best balloon decoration services in Bangalore? Visit us!