The word Balloon, spells for celebration, happiness and joy. Every adult and every child has a fond liking for balloons since time immemorial. A Birthday party is never complete without balloons of different hues. Balloons have been used to pass the message of celebration and happiness for long throughout the world.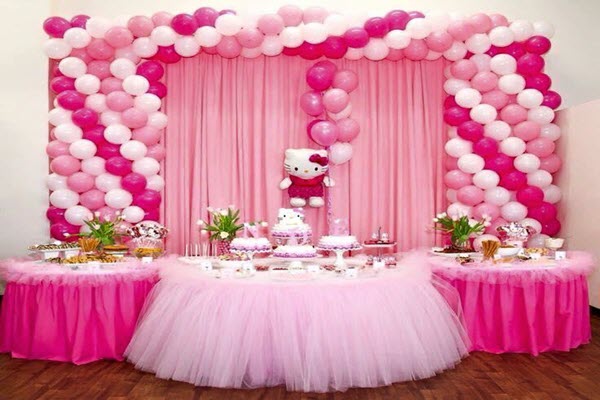 Gone are the days when our parents used to manually inflate each balloon using their mouth and run out of breathe very soon. In today's world where everything is made possible at the click of a button, so is Balloon decoration. Birthday balloon decoration Bangalore has been made easy by a select few companies who offer all kinds of balloon services at a call.
Just a buzz a day in advance can help solve every issue pertaining to balloon and balloon decoration. They have a huge range of balloons to choose from depending on the occasion, budget and the venue. Give them a requirement and the services are at your door steps at the desirable time with a budget suiting every pocket.

Types of balloons:
Polka dot balloon
Balloon with cartoon characters
Heart shaped balloon
Balloon of different shapes(aeroplane, teddy bear, fish and more)
Satin finish balloon
Number balloons
Latex balloons
Singing balloons
Giant balloons
Orbz and ultra-balloons
To add to the convenience of the user, most of the balloon service providers are also party organizers. They organize every kind of party with a host of services that exists in their list of services. Ranging from a professional host, magician, puppeteer and juggler, every activity comes with a certain charge and is made available at the venue on the said day with immense professional approach. The prices for balloon decoration range anywhere between INR1000/- to INR 50,000/- depending on the venue, budget and the occasion.

Occasions where balloons are used:
Birthday Parties
Baby showers
Marriage anniversary
Corporate programs
Inaugurations
Bridal showers
Bachelor party
Wedding part
Awareness programs
National integration functions
There are several benefits of aligning a professional balloon decorator for the task as it reduces both physical and mental stress of the user. Creative balloon decoration is a skill restricted to only a few people, thus the professionals would do their best at their work. Also inflating 1000 balloons is a mammoth task for a user, thus it is always advisable and easier to seek professional help.
Of late, professional balloon decorators have come out with extremely creative and innovative themes and ideas to decorate a venue. For example making a life size doll, farm house with animals, trees, comic characters, flowers of different shapes and colours and many more are often seen in parties nowadays.
There are parties which are either colour coordinated where every single decor is of a single colour, these are the times when the professionals take out their best creative skills.
Balloons are a commodity which will never run out of fashion. With every advancing day and time the list of occasion to use balloons will only increase and not come down.