Children grow up too fast – no wonder, someone said, 'the speed at which children grow up defies the laws of time.' It seemed just yesterday when your child was a helpless baby. And just like that, it's already time to celebrate the baby's first birthday. Celebrating this milestone makes for memorable memories, especially for babies who do not yet really understand what's going around them. You may want to mark the remarkable 1-year transition with a birthday party theme that your baby enjoys but also fits your aesthetics and budget. Read on if you wish for some 1st birthday balloon decoration ideas at home.
Most parents want to make their baby's first birthday memorable but might find it challenging to decide what kind of celebration suits the baby and the guests. You can call us for balloon decoration in Bangalore and create a cozy and comfortable party venue at home.
Whether you plan to host a grand party with extended family and friends or a small group, make your baby's day unique and memorable by following these helpful tips on how to get your baby's 1st birthday party decorations at home.
Baby's Comfort & Safety
Babies might get a bit overwhelmed if they become the center of attention at the party. Since your home is where your baby feels secure, it's only fair that the first birthday party is held at home. Ensure the party has fun elements that mean the most to you and your family, and make the event memorable.
Adding a dash of a few colorful decoration ideas for a 1st birthday party at home to comfort your baby and create the perfect ambiance for the event.
Someone can take the baby home for a quick nap or change if you're planning a grand party.
Dedicate a special place for little ones and the birthday baby to dance and have fun while the adults have their own space to socialize.
If you're planning an outdoor event, place a playpen for the younger ones at the venue.
Schedule your baby's birthday party after nap time and avoid long hours of celebrations with too many activities. It may be too much for a one-year-old to handle.
Guest List & Invites
Birthday parties for most kids tend to have a long guest list, but when it comes to your babies, it's best to keep commotion at bay as it can startle them.
Make sure the guest list includes people with whom your baby is comfortable.
Include your child's photo on the invite and essential details like the date, venue, and duration of the birthday party.
Ensure you send out the invites way ahead of time so guests can confirm their attendance.
Choose a First Birthday Party Theme
Choosing a theme for your baby's first birthday party can be daunting, especially if you have never done it. With multiple options available in the market, planning 1st-year birthday decorations at home can be mind-boggling.
We can help with your balloon decoration for your birthday in Bangalore and create characters or themes as requested. The only party themes your baby may enjoy will involve their favorite characters or toys. You can even choose a color-coordinated theme and add a personal touch with a collage of your baby's photographs from birth to one year. The collage can be on a wall decorated with a balloon frame, where family and guests can click pictures. You can also create a particular area for guests to write a special birthday message for your baby. Decorate this corner with balloons based on the chosen theme.
Grand Entrance Decor
As you celebrate your tiny tot's first birthday, you may want to give your guests a warm welcome by decorating your entrance elegantly. Call Book My Balloons for balloon decoration in Bangalore; we can create a unique design for your home's entrance. We specialize in elegant and classy balloon entrance décor and deck it according to your specific theme. The grand entry balloon décor will set the party's tone at the door.
Birthday Party Decoration Ideas for Home
Colorful balloons, shiny streamers, and fun objects like stuffed animals always excite babies. Surprise your baby with attractive decorations by creating a magical and fun party environment.
Balloons and birthday decorations go hand in hand. We offer balloon decoration in Bangalore with plenty of options in colors, shapes, materials, sizes, and designs for birthday decoration ideas at home.
You can choose from air-filled or helium-filled balloons, glowing LED balloons, or confetti balloons and use them for simple 1st birthday party decorations at home. As part of simple birthday decoration at home with balloons, one can opt for self-inflated metallic foil balloons or a single or dual-coloured balloon for wall decoration. To create a personalized décor, choose from specially printed balloons or self-standing cartoon character balloons your baby adores.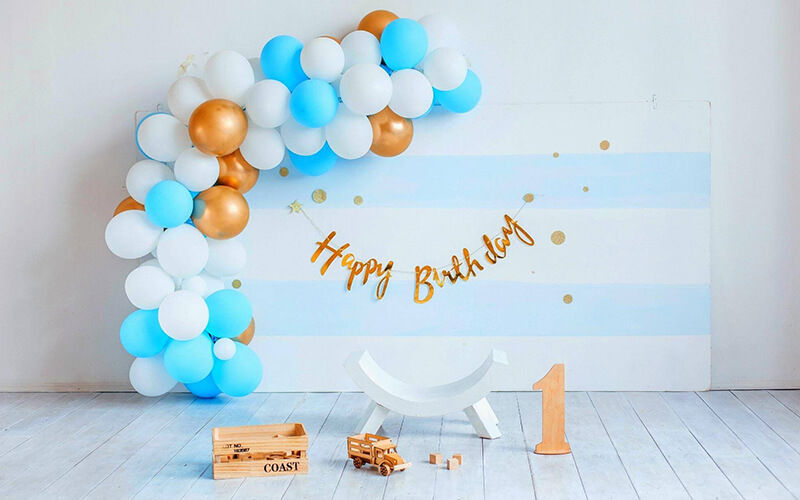 Wall decorations are interesting, mainly when you use unique and creative ideas. You can create a birthday wall decor with balloons and double it up as a photo backdrop as part of 1st year's birthday decoration at home. Our decorators can help you create a unique wall design to entertain your guests and family.
Decoration ideas for 1st birthday party at home can include using different types of streamers draped elegantly to enhance and elevate the impact of the home décor. You should choose block colors that suit your baby's party color scheme and use them on the room's ceilings, walls, and windows as part of the birthday house decoration.
Kids & Adult Food
Even if your baby's first party is short, you must offer your guests some snacks to munch on before the cake is served. You must serve kid-friendly snacks as well as snacks that adults will enjoy. You can keep things simple by opting for disposable tableware and paper cups. With kids around at the party, glasses and plates could be knocked off tables; hence it's best to play it safe and avoid anything heavy and breakable.
Party Favours
Create cute party favors that go with the 1st birthday theme. Party planners at Book My Balloons can help you with many ideas per your budget.
Arrange a photo shoot with your baby through a professional photographer to be used as a party favor and attach it with a handwritten thank you note to acknowledge everyone's attendance.
For younger kids, their tiny hands/footprints on a board with their names can be a great way to remember the party. All parents will adore this gift and will treasure them for life.
If you have any requirements for 1st birthday balloon decoration ideas at home in Bangalore, get in touch with Book My Balloons by calling 8088880011 or 8088880022 for our latest products and services. Are you looking for the best balloon decoration services in Bangalore? Visit us!