When it comes to your precious little one, every little step and every milestone is worth celebrating! Naturally, when it comes to celebrating your child's first birthday, it needs to be equally memorable and momentous. At Book My Balloons, we help proud parents mark their child's transition to toddlerhood. With us, you can celebrate your child's birthday surrounded by family and friends and a theme that fits your aesthetics and budget. Read on if you're planning an unforgettable party and looking for 1st birthday balloon decorations in Bangalore.
Selecting a theme for your baby's first birthday party can be a mind-boggling decision, especially if you haven't organized such events in the past. Planning for birthdays can be daunting, from finalising a birthday theme and sourcing decoration supplies to managing invites, food, and venue. With such a long to-do list for a first birthday party, preparation is important as it helps to stay on track. To help you sail smoothly through this ride, we have shortlisted some unique, creative, and baby-friendly ideas to throw a memorable birthday party.
Here are some tips to help you organise an unforgettable first birthday celebration that everyone will enjoy.
Party Planning
Planning is important for any party to succeed. Planning well in advance for your baby's first birthday celebration will help you stay stress-free on the big day.
Simplify the party planning process by creating a list of party themes and decorations that match your child's personality. Make sure the theme is manageable and within your budget. You need not spend extravagantly hosting a memorable party.
Next, make a checklist of party supplies required for the chosen theme. We have a huge collection of affordable first birthday party supplies at Book My Balloons in Bangalore. Our party experts can also help you to choose decorations and accessories that match your theme.
You could also choose unique party themes that create unique decorations using balloons. Everything, including return gifts, cake designs, party games, etc., can be planned around these balloon decorations.
How to Source Party Supplies
To avoid last-minute running around, we suggest you keep a list of important supplies needed to start the party. Look for theme-related party supplies or decorations that can work together to create the decided theme. Most party supplies can be coordinated through colour or motif so that the décor fits the venue. Coordinating party supplies around a particular theme makes your guests feel special and creates a festive atmosphere all over the venue. You can buy different party supplies at an affordable price from wholesalers like Book My Balloons. Paper products are one of the most widely used party supplies. It's always best to purchase party supplies that you can reuse and easily store for a future event or dispose of the supplies that aren't required.
Some of the commonly available 1st birthday party supplies in Bangalore include:
Party Invites & Thank You Cards
You must remember to invite everyone with a personalized card and again thank guests with a thank you card to acknowledge their presence and appreciate them for taking time from their busy schedules. On the thank you card, you could post your child's 1st birthday photos and attach personalised notes on the return favours to appreciate their attendance. Send out the party invites in advance with RSVP so that your party guests can save the date.
Partyware
Once you have an idea of a final guest headcount, you must purchase enough partyware like napkins, tablecloths, plates, cups, and cutlery. It's advisable to always have extra on hand in case of surprise guests.
Party Decorations
Decorations bring out the party's theme no matter where the party is. From party balloons, banners, and centerpieces to streamers, candles, confetti, and party hats – we have everything to make your party extra special. Birthday party venues usually have specific spaces for decorations. If you need your baby's first birthday decorations at home in Bangalore, reach out to Book My Balloons.
Unique Ideas  If you're looking for something outside the box, here are some ultimate ideas that you can use. For unique 1st birthday themes in Bangalore, contact Book My Balloons and get plenty of popular toddler themes, especially those based on story books or TV shows.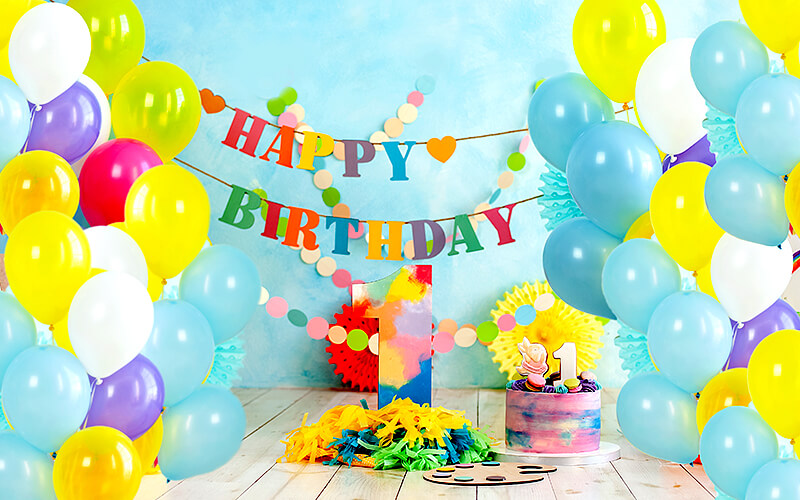 Colour Theme
For your kid's 1st birthday balloon decorations in Bangalore, you can choose colour themes that add a trendy vibe to the entire celebration.
Car Theme
Toddlers enjoy playing with cars – so try and implement it as a theme. You can order a car cake, car-based decor, and small cars and engines as party favours for your little guests.
Baby Shark Theme
Most babies and toddlers love the 'Baby shark' song. A baby shark theme décor would bring a smile to everyone's face, especially if the song is played in the background.
Jumbo Theme
If your kid loves the movie, then Jumbo would be a hit as the first birthday party theme in Bangalore.
Astronaut theme- A dimly lit room with sparkling stars and dangling planets can bring a spark to your kid's eyes.
Mermaid Theme
A sea-themed balloon décor with shells, fish, and nets as décor can help you recreate a mermaid theme for the party. Mermaid tattoos, cupcakes, and coloring books can entertain your little guests.
Popular Show Theme
Your toddler may have a favourite character from a TV show or movie that can turn into the theme. Elmo, Peppa Pig, and Toy Story can become the party's primary focus to keep your child happy at the party.
The party's theme is meant to bring happiness to your little one and celebrate one of the biggest milestones in your life. If you don't have the time or party organising skills, call Book My Balloons. We can help you with 1st birthday party supplies in Bangalore and organize the entire event while you savour the moment and make memories for a lifetime. Once you finalise a theme, you can figure out the location for your kid's first birthday party. Celebrating at home is the perfect option for a small budget, but if you're planning to go big, hire locations that can use the selected theme to enhance the ambiance.
Create Memories
A 1st birthday is as momentous an occasion for parents as it is for their child.  The year has seen the growth of a parent and child through all the various experiences you have had together. Your baby's first birthday also marks your successful journey as a parent. Hence, creating and capturing the beautiful journey of your baby's monthly milestones is a great idea. You can create a collage or a baby memory book and keep it on display for everyone to look at those special moments.
For parents, the first year is full of excitement as you observe every little change your kid makes. Since years fly by fast, it is important to hold onto all those sweet moments.  Celebrate your little one's first year with some unique 1st birthday themes in Bangalore to thank the little ones for coming into your life.
If you have any requirements for 1st birthday balloon decorations in Bangalore, call 8088880011 or 8088880022 to learn more about our latest products and services. Are you looking for the best balloon decoration services in Bangalore? Visit us!