Kids' birthday parties can get very heavy on the pocket if you do not keep a check on the unnecessary expenses. A cost-effective birthday party can also be fun if you work smartly around budget-friendly kids' birthday party ideas that are unique and exciting. Let us look at simple ways to save money on your child's next birthday party!
1. Short Guest List
Make sure you invite only close friends and family for the birthday party. The fewer the guests, you can pay more attention to the décor and activities using inexpensive kids' birthday party ideas. The money spent on food, activities, and supplies will get reduced drastically, thus minimizing wastage.
2. Invite Close Friends
Usually, kids start inviting everyone they know in excitement over their birthday. As a parent, you need to sit with your kids and create a list containing the names of their close friends. You can then share budget birthday party ideas with your child to decide what the kids will enjoy. Distribute sweets or cakes to the rest of your child's classmates and acquaintances instead of inviting them to the party.
3. Make Birthday Invitations
Save money on invitations by involving your child in making personalized birthday invitations with you. Making cards for everyone on your guest list will make them feel special and appreciate the thought behind it.
4. Decorate Your Home
Hosting the birthday party at home is very cost-effective compared to paying at fancy restaurants, kiddie gyms, zoos, parks, etc. Get creative and decorate the space with simple kids' birthday decorations at home. Kids want fun decorations, so make a few decorative items using balloons and streamers at home.
5. Organize Games
Provide entertainment to kids by planning some games and activities using household items. Play a movie that the kids like and give them bowls of popcorn to go with it. Put some latest music for kids to dance on. You can think of innovative games using indoor birthday party tips and allow kids to play the games and distribute simple prizes to the winners.
6. Homemade Food
Kids look forward to snacking on food at birthday parties. Make sure you offer some delicious and healthy snacks with homemade burgers, pizzas, pasta, etc., on your food menu. Make choices that your kids love the most. Bake your simple cake or cupcakes with your child's help with simple frosting and sprinkles instead of paying for a fancy bakery.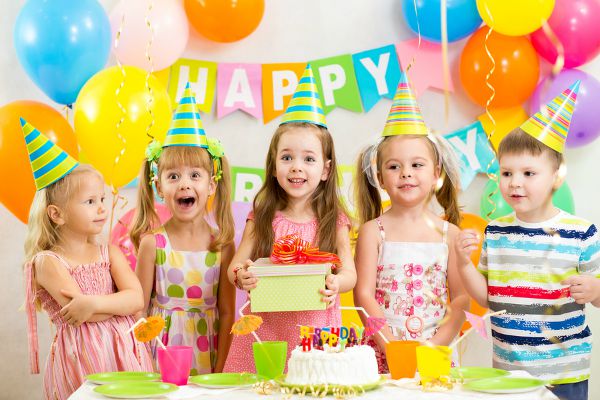 7. Theme Birthday Party
Give your kid a theme-based party to make it more fun. Ask guests to wear outfits according to the theme mentioned in the invite.
You can plan a fantastic party with budget birthday party ideas that your child will love and remember for a long time at a reasonable amount. Just remember to make fun a top priority at the party!
Get in touch with www.bookmyballoons.in or visit us for budget-friendly kids' birthday party ideas and any other event services with balloon decoration in Bangalore. We will be happy to help you with our expertise in implementing decorations of your choice with perfection and on time.