Balloons can be used for any celebration if used creatively, they can make for the most beautiful as well as a cost-effective way of decorating a wall. Here we list some balloon wall decoration ideas that will add a festive atmosphere and make your party extra special.
1. Rainbow Balloon Wall
If you are looking for balloon wall backdrop ideas with some fun elements and colour, then a Rainbow balloon wall would be an excellent idea. Buy enough balloons of seven different colors that would cover the area designated for the backdrop. The seven colours will instantly add a splash of rainbow colours to the décor. Inflate the balloons and arrange similar coloured balloons to form an arc made of seven colors. This is one of the perfect decoration ideas that would brighten up your party.
2. Convey Your Message on The Wall
As part of a balloon wall decoration for a birthday party, you can print or write a beautiful message on a chart and stick it on the wall. Decorate the message using coloured balloons as per the birthday theme.
3. Heart Balloon Wall
Any romantic event like an engagement, wedding, or anniversary can be celebrated using heart-shaped balloons. In case you do not find the heart-shaped balloons, get creative and use red balloons instead. Inflate the red or pink coloured balloons and stick them to the wall in the shape of a heart.
4. Arc of Silk Flowers And Balloons
If you have the time and the inclination to create a stunning design using silk flowers and colorful balloons, we would recommend you go for it. Decide on the shape of the arc and the size of the overall design first. Start by sticking or tying the inflated bigger balloons first to the decorating strip, followed by smaller ones to fill the gaps. Use attractive silk flowers in spaces between and around the balloons by attaching them w strings or glue dots. Design a wall backdrop to amaze your guests with your creativity. Alternatively, you can call for balloon wall theme decoration in Bangalore to help make the design for you.
5. Balloon Backdrop Photo Booth
A balloon backdrop for a photo booth is one of the easiest and trendiest DIY birthday and wedding decor ideas. You can use colorful balloons of different shapes and sizes to create a beautiful balloon wall. Since it is easy to put together, it's a perfect way for making the birthday kid or couple happy as they pose with their friends.
6. Use Balloons to Express Yourself
Using balloon letters to create words that express a message to your loved one has become more popular at parties than handwritten sheets. As an easy and affordable way to celebrate your loved ones, the balloon alphabets often come in a pack, sometimes even with the phrase. You can create these words or phrases by attaching the letter balloons with a string or streamer on a wall or from the ceiling. Everyone will appreciate the gesture and click pictures in front of phrases.
7. White Balloon Wall
If you want a surreal feel like being on Cloud-9, decorate your party wall using white-colored balloons. The uneven white wall will give you a cloud look and standing in front of it with your loved one will make you feel excited and special.
8. Balloons with Attached Ribbon
Inflate balloons of different colors and sizes. Attach curly ribbons or at the base of the balloon. Now stick these balloons on the wall to create a colourful wall. Alternately you can make them hang on the wall for a different look.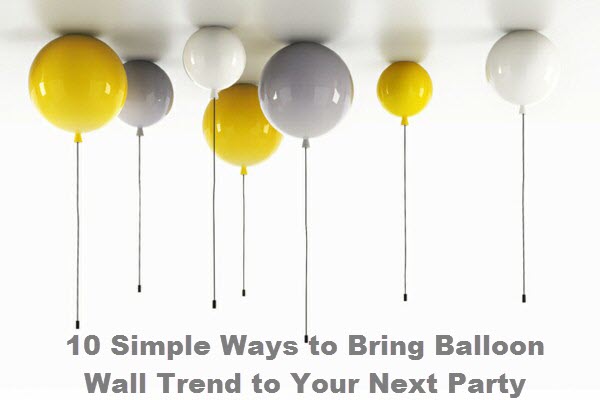 9. Painted Balloons
If you want a particular message for your guests, use paints over plain white balloons to colour or write the words. You can then choose to hang the painted balloons on the center table or create a balloon wall.
10. Create a Balloon Number Wall
Number balloons help in celebrating many events like birthdays, graduations, and wedding anniversaries. The best part about using specific numbers is that it helps you remember the milestone you celebrated even years down the line.
Given above are the 10 simple yet unique ways to decorate a balloon wall for your next party. Hopefully, you like these ideas and will consider them in the future to create a memorable event.
Get in touch with www.bookmyballoons.in or visit us for event-related services, including balloon wall backdrop decoration in Bangalore. We will be happy to help you with our expertise in implementing decorations of your choice with perfection and on time.