Give your guests a stunning surprise by creating wedding backdrops using balloons. From balloons to wallpapers there are many ways to decorate your backdrop. Think creatively, brightly, and intuitively to create an awesome backdrop that would drive you to go crazy for it. Try to add some beautiful wedding theme along with the balloons to make your party stylish and unique.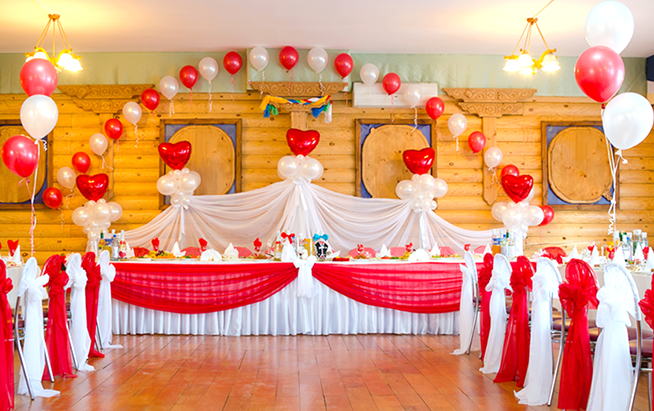 Blow up balloons as creatively as you can. Balloons are one of the best ways to decorate your wedding backdrop in a cost-effective way. We are here with the 9 amazing wedding balloon decoration ideas that will blow up your mind.
1. Use Heart Shaped Balloons
Blow up balloons and create a heart-shaped design on the wedding stage. Take colorful balloons and blow them to form a large-sized design of a heart. Prefer to use red and white colored balloons to add more beauty to this design. Organize this balloon-heart at the center of the wedding stage. Use this masterpiece of your creation to click amazing pictures of your wedding day.
2. Hanging Balloons
Inflate balloons and hang individual balloons over the roof. Create a nice pattern of beautiful balloons that will blow your mind. Try to pick different colors of balloons and hang them in a pre-decided fashion to create a beautiful impact on the backdrop.
3. Create An Arc Of A Colorful Balloon On The Wedding Stage
Collect some colorful balloons and create an arc that matches with the stage size of the wedding stage. Make sure you organize this arc at the center of the wedding stage so that guests can click beautiful pictures from here.
4. Balloon Arch At Center
Decorate center table and create an arc of a balloon on the center of the stage
Place one center table on the stage and use balloons to decorate your wedding event. Use balloons to decorate the center stage and hang an arc of colorful balloons over the table.
5. Fill Confetti's Inside The Balloons
Take balloons and fill some colorful confetti's inside the balloon. Inflate these balloons and use some ribbons to hang them at the back side of the stage. This is one of the best ways to decorate your wedding backdrop using balloons, confetti, and some beautiful ribbons.
6. Create A Romantic Character In Balloon
Make a romantic character and stick colorful balloons that resemble that character. To decorate and create a wedding backdrop, design some romantic character on the backdrop and stick colorful balloons.
7. Use Glowing Stick
Insert Glowing Stick inside the balloon and inflate these balloons. Use ribbons to hang these balloons at the backstage.
8. Write Message On Balloons
Write some nice lines over the balloons to convey a loving message to the wedding couple. This will showcase your love towards your loved ones.
9. Bunch Of Balloons
Create bunches of balloons using colorful balloons and hang them at the backstage. You can create bunches in the form of fruits, vegetables, stars, hearts, and much more.
Wrapping Up
Above are some of the best ways to decorate your wedding backdrop using balloons. Hopefully, you find these ideas new and innovate.