When it comes to deciding on wedding decorations, the recent trending craze is that of creative balloon backdrop ideas. Give your guests a stunning surprise with a range of décor using balloons to decorate your backdrop. Use a creative way to incorporate the wedding theme with the balloons to make your venue stylish and unique. Balloons are one of the best and most cost-effective ways to decorate your wedding backdrop. We are here with the 9 innovative balloon backdrop wedding decoration ideas:
1. Heart-Shaped Balloons
Create a romantic backdrop using balloons by inflating small-sized balloons and sticking them in a big heart-shaped design behind the stage. Medium-sized balloons can be inflated and can be designed like double hearts as the backdrop. Preferably choose red or pink shades of balloons to create the design. Use this masterpiece of your creation to click amazing pictures of your wedding day.
2. Hanging Balloons
Hanging balloons on the ceiling could be just enough decor required for a wedding event. The attached curling ribbon streamers give it a classy look. The look of the ceiling can differ as per the choice of balloons. Different colours, textures, and patterns will work as various themes. You can also create a huge balloon chandelier dangling above the wedding stage. The chandelier not only makes for a spectacular display but also utilizes the space and helps fully decorate it.
3. Colourful Balloon Arc
One of the best balloon decors at the wedding could be creating a grand entrance using a colourful balloon arc. Collect some colorful balloons and create an arc that matches the stage size of the wedding stage. You can choose balloons that either match or contrast with your wedding theme. Make sure the balloon arc backdrop is placed right so that guests can click beautiful pictures to capture the precious moments.
4. Balloon Arch Centrepiece
A Balloon arch on the center table can look amazing as a backdrop. Balloons make for great centrepieces since they'll float above the table and do not block the guest's view. You can choose to create balloon bouquets using a bunch of inflated latex balloons or a combination of latex and mylar balloons.
5. Confetti Balloons
Confetti-filled balloons always make for an elegant backdrop. Take deflated balloons and fill some colorful confetti inside. Inflate these balloons and after tying their mouths, use some ribbons to hang them on the back side of the stage. This is one of the best indoor wedding balloon backdrop ideas that is stunning and yet affordable.
6. Create a Romantic Character in Balloon
Instead of the traditional décor, get creative and opt for balloon sculptures. Wedding balloon backdrop decor in Bangalore can help make romantic characters or bride and groom figurines using balloons to be kept as backdrops.
7. Glowing Stick Balloons
For an evening wedding reception, glow stick balloons are an awesome way to decorate the space. First partially fill the balloons with air and then carefully place one or two glow sticks into them. Now completely inflate the balloons and tie the ends securely. Use ribbons to hang these balloons backstage or from the ceiling to create a mind-blowing backdrop.
8. Write Message on Balloons
Writing some nice messages over the balloons will help convey a loving message to the wedding couple. You may use a couple of large balloons to carry a special message or multiple balloons with messages from guests wishing them a happy married life.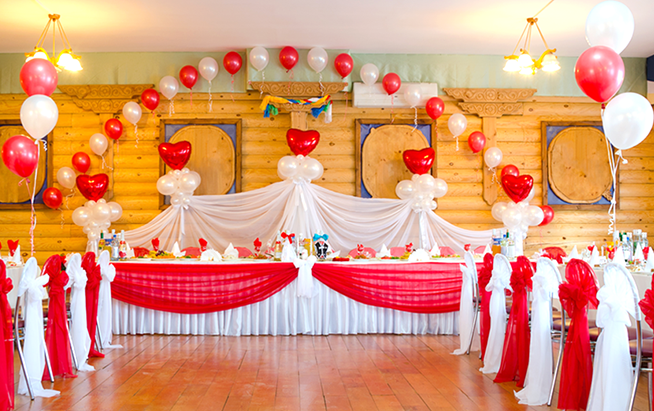 9. Balloon Bunches
Creating bunches of colorful balloons is one of the best indoor wedding balloon decoration ideas. Different sizes and textures of balloons create the right vibe for the event. You can opt for any soft colour latex balloons to create bunches in the form of fruits, vegetables, stars, hearts, and much more for the desired backdrop looks.
Among a plethora of decorative options, the ideas mentioned above are some of the best balloon backdrop wedding decoration ideas. Select from a variety of balloons to create a lovely wedding backdrop. Get in touch with www.bookmyballoons.in or visit us for event-related services. We will be happy to help you with our expertise in implementing decorations of your choice with perfection and on time.