8 Fun and Creative Wedding Balloon Ideas
From funky to some of the unique balloon decoration ideas we the have come up with the list of 8 Fun and creative wedding balloon decoration ideas that would surely make your special day more special. Balloon decoration has become trendier during the past few years.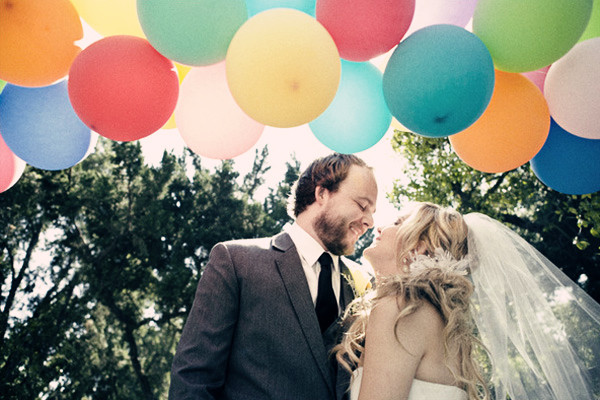 It is one of the cost-saving ways to decorate your wedding day and save a considerable sum of your hard-earned money on decoration. If you are bored of those traditional balloon decoration ideas and want to try some fun and creative ideas then you are here at the right place.
We are here with some of the unique ideas that would inspire you to use them and decorate your special day to make it look simply awesome.
1. Cake decoration
No anniversary or birthday celebration is complete without a cake. If you are planning to cut the cake, then do not forget to decorate the table or the surrounding areas with the colorful balloon. You can inflate small and colorful balloons and decorate the plates and bowls near the cake.
2. Cake toppings
Just like you decorate your cake with candles, you can decorate your cake with colorful balloons. Like candles, allow balloons to hand above the cake with the help of a stand.
3. Hang colorful balloons over the Escort Cards
If you want to make your guests feel more special, you can give them a personal touch. It is always a better idea to hang colorful balloons over the escort card of your guest. If you have set a pre-planned seating arrangement, then you can paste these escorts card on the table and let your guests find their seating place.
4. Fun decoration
Inflate your colorful balloons after adding some wow factor to it. Do not forget to add some material like glowing sticks, confetti's, or chocolates inside the balloon.
5. Glittered balloon
You can either buy decorated colorful balloon from the market or add the glittering touch to the balloon before inflating. You can buy some colorful shapes of the glitters and put them inside the balloon. Now inflate the balloon to its full of the capacity and allow your glitter balloons to decorate your wedding day.
6. Forget those plain colored threads to hang the party balloon
Nowadays, no one uses simple and plain thread to hang the balloon. Most of the decorators and smart balloon inflators use ribbons or decorated pieces of thread to give your balloons a nice look.
7. Wedding Backdrops
Create an attractive wedding backdrop so that all of your pictures and videos look simply awesome.
8. Express yourself in Words
By using text balloons or text-shaped balloon, you can express yourself in a better way.
Wrapping Up
Above are eight fun and creative ideas to decorate your wedding day cost-effectively. Not only the price, but everything that we can talk about the balloon decoration is simply grand. Hopefully, you will find these ideas inspiring enough to beautify your day without any hassle.