Today's hectic lifestyle needs a break through an exciting weekend plan. Certain cities have seasonal hot air balloon festivals that are fun to attend as a family. People come over from different parts of town to watch hot air balloons as they can be seen from almost everywhere once they get airborne. The festival has grown popular over the years with an increasing number of balloons participating. You can have a great time as an onlooker at the festival but it's important to be aware of certain dos and don'ts before you and family head to one. We've compiled some tips for attending the hot air balloon festival so that you can plan ahead and enjoy the festivities as a family.
Early Morning Arrival
The hot air balloons usually ready to take off around 6.30 am before the morning wind starts. As spectators, you should always have the hot air balloon festival information handy. Make some comfortable seating arrangements for your family and yourself at an appropriate distance from the flying zone. Keep your camera ready to capture the magnificent and colorful balloons against the backdrop of blue skies.
Dress Appropriate
Most of the places where the hot air balloon festival is celebrated are open grounds with cold winds. It is important to have hot air balloon festival awareness, even with regard to weather conditions. Early morning and evenings can get very cold and hence it is suggested to wear warm and layered clothing. Wear sunglasses to avoid the harsh glare of the sun whilst clicking pictures. You may have to walk around to find the right spot, hence it's advisable to wear sneakers for comfort.
Keep Safe Distance
The hot air balloon festival is also known to have a tradition of a firework display in the air. Safety precautions for attending hot air balloon festival are of utmost importance. There have been reports of the firework displays going wrong before the hot air balloons take off or of the unmanned flight crashing back to earth with fireworks blazing into the crowd. The best thing to do is keep a safe distance so that in case of a calamity, you and your family are in a secure place.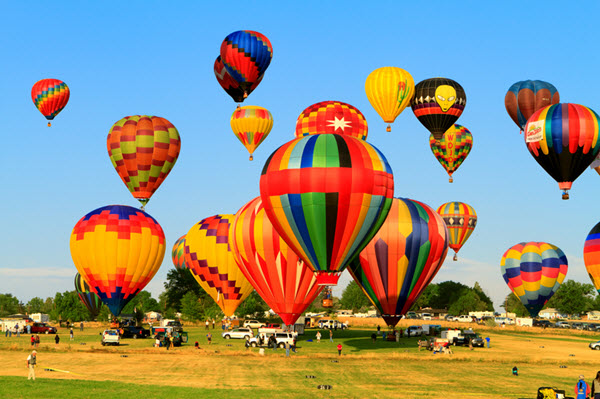 Carry Headphones
Hot air balloons make a lot of sound during take-off. The constant rising of the flames makes a loud sound that may be inconvenient to sensitive ears, especially for young kids. Carry your headphones to block these uncomfortable sounds so that you are able to focus on the majestic visual display.
Carry Bug Spray
One more of the safety tips for the hot air balloon festival is to carry a bug repellent spray. The fields that hold the festival may have bugs all around, especially during the cold weather. The bug spray will keep you and the family safe from bug bites.
No doubt, hot air balloon festivals are a joy to attend. Yet, it is important that you take safety precautions for your kids and your family and ensure you are well-prepared to safeguard them from unexpected accidents. Always keep your children close to you, especially in a crowd.
Get in touch with www.bookmyballoons.in or visit us for tips for attending hot balloon festivals and any other event services. We will be happy to help you with our expertise in implementing decorations of your choice with perfection and on time.