Venue spaces are usually one of the most expensive items on your event list. Decorating a venue for an event, whether it is large or small is the perfect opportunity to get creative. It's important to study the entire space so that every inch is used to balance the minimalistic or opulent décor as per the theme. Make sure you get the most out of the venue using these party venue balloon decoration ideas.
Here's our checklist for decorating party venues with balloons:
1. Types of Party Balloons
The first and foremost need is to finalize the type of party balloon to be used for venue decoration. Most unique balloon decoration ideas for parties depend on the theme, budget, and look of the setup. You can choose from latex, mylar, and vinyl as each material has its advantage as per the event. The decor will also determine the filling inside the balloon. Air-filled latex balloons are good for floor, wall, and entrance décor, while helium-filled balloons are used to decorate ceilings, table tops, and center-stage set-ups. The size of the balloons may vary depending on the usage and the location.
2. Choice of Colours and Patterns
Any party venue will look impressive if decorated with attractive balloon décor. You can implement creative party balloon decoration ideas by choosing the right colors and patterns that make for an impressive party venue. The balloon decoration and the theme need to complement each other. Use balloons to design balloon arches, garlands, table tops, etc. to make the most of the party venue.
3. Centrepiece Location
While creating a Balloon centerpiece, it is important to first finalize where it would be placed at the venue. You can ask party balloon decoration planners in Bangalore to create a wonderful centerpiece and place it at the center of the stage or a table. The centerpiece can also be a nice backdrop and used as a photo booth for your guests to pose and click beautiful pictures.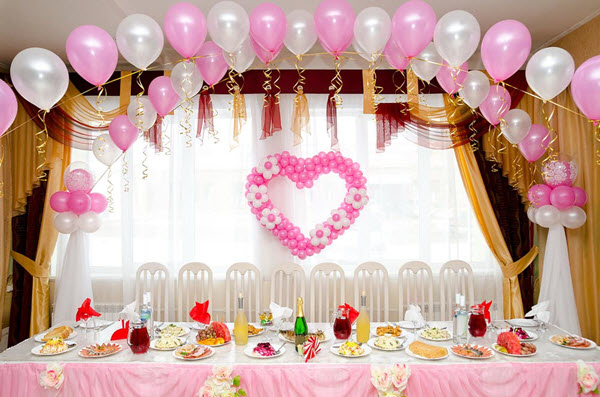 4. Floor Decor
Colorful or metallic balloons on the floor look good at the entrance or on the dance floor. Let the balloons enhance the beauty of the party floor and make your guests feel welcomed. The guests will feel like floating around in the venue as they move into the beautifully decorated party space.
Above are some of the different ideas for low-budget balloon decoration in Bangalore. Hopefully, you will incorporate them at your next party and surprise your guests with this unique concept.
Get in touch with www.bookmyballoons.in or visit us for party venue balloon decoration ideas and any other event services. We will be happy to help you with our expertise in implementing decorations of your choice with perfection and on time.