Top 10 Innovative Party Hall Decoration Ideas With Balloons
Are you searching for some simple and cheap Party Hall Decoration ideas with balloons? If yes, your search is over now. We are here with the list of 10 simple yet cheap ideas to decorate your party hall with balloons. Apart from the below ideas, you can create different decorations by your own with the help of balloons.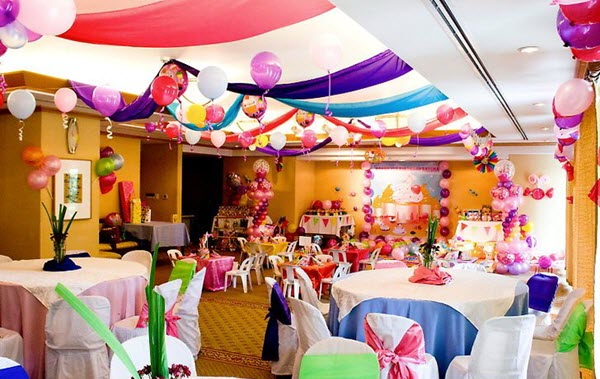 1. Balloon Garden
How about an idea of balloon garden? If you are planning to throw an outdoor party for your friends and family members, you must try this balloon garden decorating idea. Inflate colorful balloons and decorate the lawn area flawlessly.
2. Floating ice-cream cones
Yes, you read it right. It is possible to create ice-cream cones using balloons. All you need to do is to inflate balloons and attach a small craft of paper in the form of a cone beneath all balloons.
3. Garlands Of Balloon
Create colorful garlands of balloons and decorate the entrance of your party hall. You can measure the size of your entrance area and tie colorful balloons to a string to come up with a beautiful garland.
4. Return Gift
Say Good Bye to your guests by giving a cute return gift with a balloon hanging over it. When you are throwing some occasional party, you plan to distribute return gifts. Instead of giving gifts only to the adults, it is advised to hang a balloon over the gift so that your guests and their kids love your gift.
5. Balloon Wall
Create an amazing balloon wall using colorful balloons. Use different size balloon and tape them to the wall in a unique fashion. You can create this wall on the center stage so that your guests get a stunning place to click pictures.
6. Arc Balloon
Create an arc of balloons to surprise your party guests with your creativity. The best way to decorate your party venue in the most cost-friendly way is to create an arc of balloons and place it at the entrance or the center of your stage.
7. Glowing Balloons
You can insert glowing sticks inside the balloons and inflate them to enhance the beauty of your party area. Glowing balloons usually look appealing during the night parties. You can plan to decorate your party hall with glowing balloons if your party is scheduled for the night.
8. Water Balloons
Water balloons can be an excellent idea when your party contains hard drinks as well. You can collect some nice colors of balloons and inflate them using water. Now put these balloons inside the bucket containing full mock tails and other hard drinks.
9. Confetti's Decorations
Buy confetti's from general store and put them inside the balloons. Now inflate these balloons and see the beauty of balloons your way.
10. Transparent Design
Take a cotton cloth may be transparent in color and stick it to the wall to create a magnificent backdrop. Now decorate this cloth with the help of inflated balloons and ribbons.
Wrapping Up
Above are the Top 10 simple and cheap Party Hall Decoration ideas with balloons. Hopefully, you found this information useful and consider it to throw a mesmerizing party this time.