If you are looking for some simple and cheap party hall decoration ideas with balloons, then your search ends here. We have a list of 10 simple party hall balloon decoration ideas to turn your party hall into an amazing venue.
1. Balloon Garden
Imagine walking into a lawn full of balloons! Throw an outdoor party for your friends and family by creating a balloon garden. Decorate the space by inflating colourful balloons and letting them spread around the entire lawn.
2. Balloon Cone
Ice-cream cones are on everyone's list of favourites. Try unique party hall decoration ideas and replicate this look with balloons to attract attention and make your party colourful. Balloon cones are unique but can get made at home easily. You need to inflate colourful balloons and stick them to the cone-shaped cups to give them an ice-cream look. Kids will love to hold on to it and take pictures.
3. Balloon Garlands
Balloon garland as a backdrop or entrance décor is the latest trend all over social media nowadays. With a colour combination and theme in mind, create a garland of air-filled balloons with the help of garland tape or ribbon. Use the ribbon to tie all the balloons together and create a long garland required to decorate the entrance area of your party area.
4. Balloon Attached Return Gifts
Balloons can also get used as a decorative element on the return gift. Guests, especially kids, love to take back balloons home after a party, and this would be a way to make it happen. As a birthday party hall balloon decoration, tie balloons over the return gifts with the visitor's names, making them personalized and exciting.
5. Balloon Wall
An entire wall of colourful balloons can make for an exciting backdrop and act as a photo booth. Colourful balloons look good as backdrops for kids' parties, whereas metallic balloon walls for formal events or celebrations can add to the fun. Simple party hall balloon decorators can create a balloon wall in an area where the guests can click their pictures and capture their memorable moments on camera.
6. Arc Balloon
Create an arc of balloons to surprise your party guests. The best way to welcome your guests to the gate of the venue is to create an arc of balloons and place it at the entrance. A balloon arch is the most cost-friendly way to decorate the centre of your stage.
7. Glowing Balloons
Glowing balloons are the most magical way of decoration, especially for evening and night events. As part of the event, many party hall balloon decoration services in Bangalore insert glow sticks inside the balloons before inflating and tying them. Create an enticing lit-up balloon corner or a backdrop that will also work as a photo booth.
8. Frozen Balloons
A unique way to cool your refreshments is to create ice using frozen balloons. Pour water into balloons and freeze them till the time of the event. Slit open the balloons and use the different balloon-shaped ice to decorate the refreshment area or an ice bucket for the bottles.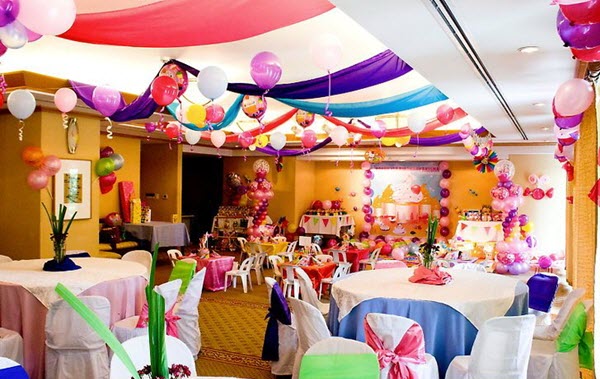 9. Use Confetti Balloons
Confetti balloons are in trend these days, and no wonder they look pretty. Confetti balloons can be a big hit in the hall decoration ideas it is all about being sparkly and happy. Confetti-filled beautiful transparent balloons get used to create a celebratory look. Confetti inside balloons makes it look very fancy.
10. Transparent Design
Take a thin transparent fabric and stick it to the wall to create a textured backdrop. This backdrop can then be decorated with the help of inflated coloured balloons and ribbons.
Above are the 10 simple party hall balloon decoration ideas with balloons. Hopefully, you found this information useful, and consider throwing an awesome party next time. Visit us for more party hall decoration ideas!