Don't we all love parties? They're the best way to meet and hang out with like-minded people. Parties bring a lot of fun to your life. Bangalore is a developing marketplace for party organizers. There are several birthday party planners in Bangalore promising to help you throw the best parties in town. If you are in Bangalore, hire Book My Balloons, one of the best balloon decoration services in Bangalore.
We use balloons to create a unique and fabulous party décor that matches your style and taste. Our ideas, views, and working style differ greatly from other decorators. We are among the top party decorators in Bangalore.
People of all ages love balloons. They're a hit, especially in events involving kids. We have carved a unique identity at Book My Balloons by offering the best balloon decorations in Bangalore.
Some of Our Popular Party Balloon Decorations in Bangalore Include
1. Rainbow Balloon Decoration for a Birthday Party
The rainbow decoration is quite different and can be prepared by gusting large balloons and distending them inside positions. You will need seven colours of the balloon, just like the seven colours of the rainbow. You can also embellish the place by organizing balloons of similar sizes and shapes in a circle that will appear just like the rainbow. Circularly stick the balloons at an angle. Set all the different colors of the balloons. This theme is best for small kids as they love different colors.
2. Toddler Birthday Parties
We are the best balloon decoration services in Bangalore, arranging a wide range of decorations you'll surely love. While you don't need too many decorations, you will still need enough activities and games to keep children engaged. Toddler parties are arranged for not more than an hour to two hours because small kids get tired quickly and are likely to be overwhelmed by too much noise and activities.
3. Surprise Parties
We can create the best balloon decorations in Bangalore and often help plan parties with themes and balloon decorations. At Book My Balloons, we also help our clients plan surprise parties for their friends and family. You could even hire a musician for a nominal fee to add a touch of romance to your party.
4. Birthday Party with the Best Designs of Balloons
Over the years, we have arranged hundreds of parties for kids between 5-6 years. These parties are usually theme-based and involve different animation characters, faces, and even creatures. While kids love our balloon decorations, they also love the decorations at the parties. We can also arrange food and beverages for your tiny guests.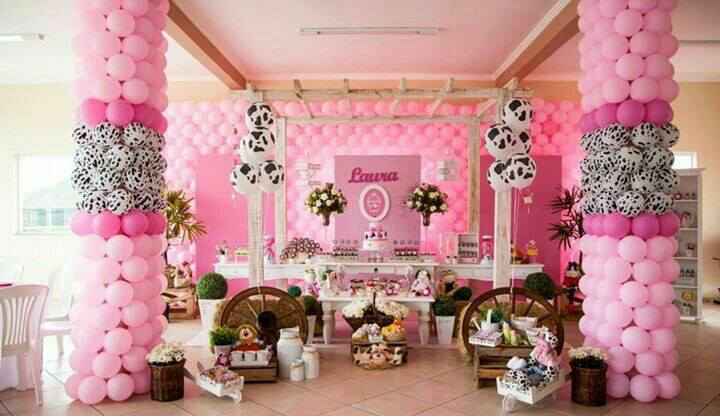 Why Choose Book My Balloons for Balloon Decorations for Birthdays at Home in Bangalore?
At Book My Balloons, you can choose from a wide range of balloons, viz., sky balloons, printed balloons, helium balloons, polka dots balloons, and even custom-order balloons to match your style and budget. Our professional services help us provide the best decoration for theme parties and other events such as weddings, Valentine's Day surprises, and birthdays.
Party planning doesn't just involve supplying guests with things at the doorway – you need someone to help you with every minute detail. We make your requirements a priority and create events around your wishes. We can print messages on balloons for your loved ones, plan various events, and even assist with videography and photography. And if you only need balloon decorations, we also sell readymade balloon props. Over the years, we have sold more than 1 lakh balloons.
We know the needs of every balloon lover and serve the best that suits our clients. We don't just serve locally – we have decorated hundreds of government offices and are major balloon suppliers in and around Bangalore.
For any kid, a party is the most enjoyable event. You must plan it perfectly and arrange the perfect decoration. At Book My Balloons, we can arrange seating, food & beverages, and even put decorations for the party. Our services are affordable and you don't need to break the bank.
We'll deliver top-quality work, allowing you to enjoy the day with your friends, family, and colleagues. As for the budget, it depends on the arrangements you're looking for – the scale and space help to decide the cost.
If you're planning a great party and looking for party balloon decorations in Bangalore, hire us or visit us, and we'll promise a decoration you'll never forget.