Balloons are an essential item for celebrating any kind of event. There is a growing popularity for balloons for celebrations. In some metro cities there are party organizers who arrange for birthday parties. They have all essential materials for decoration including balloons. If somebody wants only birthday decoration then also it is possible for the birthday organizers.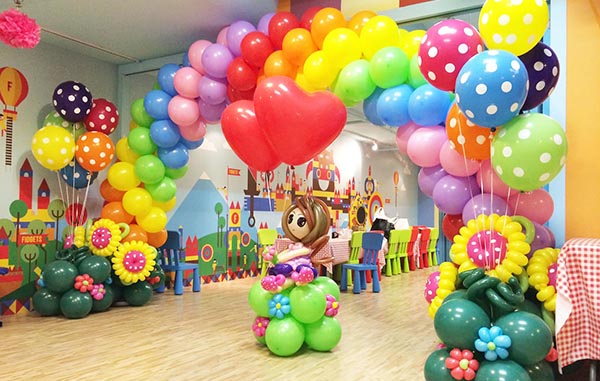 Bangalore is one the emerging markets for event organizers among all the metros. There are many birthday party organizers in Bangalore to cater the consumers. Popular birthday decoration themes are carried out by the event organizers.
Birthday party organizers in Bangalore are available for any kind of budget. Based on the budget the decoration and activities in the event are decided. When it comes to decoration there are different kinds of themes which are followed. In balloons, there are different kind of decoration types. Out of it the most famous is 'Rainbow decoration'.
Below mentioned are some rainbow balloon decoration tips:
DIY rainbow decoration can be done by blowing the elongated balloons and stretching it in side angles. Seven different colors of balloons according to the rainbow colors can be arranged in order.
You can also decorate by arranging balloons of same sizes and shapes in an arch which will look like rainbow. One can blow a set of 4-5 balloons and stick them to a stick which is in the form of arch. Throughout the entire stick these set of balloons of different colors can be sticked.
Through birthday party organizers you can directly purchase a balloon arch. This saves time and your efforts. Also an expert touch always helps in creating the 'Wow factor'.
There are ready made arches available in the market which you can buy. They are available in different sizes. Always prefer an arch with thin wire. Once you get the right kind of arch your half problem is solved. You then just have to stick the balloons on the arches with cello tape.
Alternatively you can also make an arch. Flexible plastic tubing can be used for this purpose. You can then follow the same steps which are mentioned above for sticking the balloons on the arch.
If you are organizing a party outside the home in outdoor environment then you can take the help of tree branches and ropes for creating an arch or some kind of support. You can then stick the balloons.
Depending on the type of balloons also the decoration strategy can differ. Mylar balloons and Latex balloons will have different modus operandi while decorating. Latex balloon are easier for decoration. Mylar balloons are not that effective.
To decorate with latex balloons, first you need to think about how many balloons are going to be used for decoration. Depending on the place the number of balloons will change. For a bigger place more balloons will be required against lesser space.
The latex balloons can be tied up to pillars of the house or entrance of bedroom, kitchen etc. Spaces like pillars, entrances are good for creating rainbow decoration.