Due to the versatile nature of balloons, their uses have increased in recent times. Printed balloons have now turned into an innovative way to advertise products and events. Beautifully customised printed balloons now help in highlighting your message with bright and vibrant colours. Balloons can be made to float as high as possible giving them the potential to stand out even in the most crowded places. The custom-printed balloons offer good visibility to onlookers, making them an effective advertising tool for your message or company logo. Here are a few ways that printed balloons are put to use for various events:
Advertising
Printed balloons in Bangalore can be customised with your company name or logo to turn into advertising material that highlights as well as promoted your brand. Many companies use customised balloons to play a vital role in targeting prospective customers, thus investing in the future growth of their business. Real estate agencies and car dealers are known to use custom-printed balloons with their logos during their events.
The added advantage of advertising through customised balloons is that you can use them at different places as per your requirements. You can install them in a building, trade shows, sports events, etc. to gain popularity as well as brand recall among consumers.
Social Causes
Another important usage of printed balloons is for social causes. Many government institutions and NGOs promote public welfare programs, medical camps, or informational events. These services need the attention of citizens from all walks of life. The institutions reach out to balloon advertising services in Bangalore to create printed balloons to pass on the message of the social cause to all.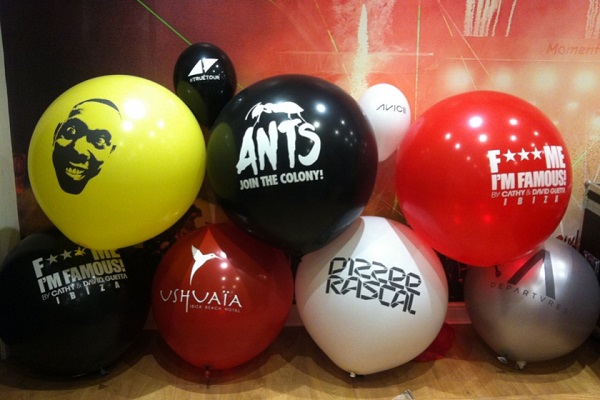 Decorative Events
The most stylish use of a customised balloon is at decorative events like baby showers, bridal showers, milestone birthdays, weddings, and festive parties. You can get balloons of any style, design, or colour printed with your personalised message. Not just colours, you can also choose from different textures and sheens that go with your style at the most reasonable printed balloon price in Bangalore.
Advances in printing technology have led to the evolution of balloon printing, making it one of the more cost-effective marketing tools for your company.
Custom printed balloons online in Bangalore come in different sizes, prints, and colors as per your requirements. Many stores also give the option of renting or purchasing custom-made balloons as per your needs. You can choose from cold air inflatable, helium blimps, parade balloons, and giant balloons. These balloons are a promotional tool that works for all kinds and sizes of industries.
Many people are using printed balloons advertisement in Bangalore for their companies. If you are looking to make a mark in your prospective field, then start advertising through printed balloons.
You can also call 8088880011 or 8088880022 for printed balloons in Bangalore as well as our latest products and balloon decoration services in Bangalore Visit us!