A balloon is a kind of thing which takes us back to the beautiful memories of our lives, a balloon can actually bring that joy which has been lost in the busy and mechanical lives we are living. These small pieces of rubber while flowing in the air, have the power to bring the child who is still sitting in the deep corners of our heart. Every person has a story, a memory related to something like a balloon, even in today's time when technology has become an integral part of the life and kids have got many games to play with, the balloon thing is still welcomed and loved by all.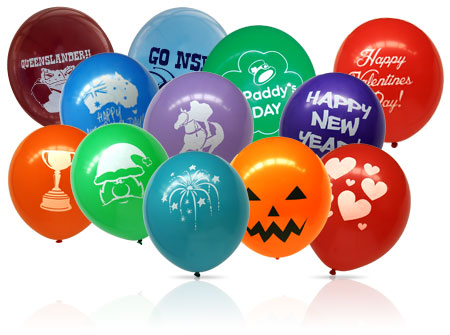 Gone are the days when balloons used to come only in different shapes and sizes, in the present scenario, you get the option to customize the balloons as per your desire and requirement. Till some of the last years, balloons were only used as a plaything for children or a decorative entity for birthday parties, but now we see that they have been used in all kinds of celebrations, be it a birthday party, marriages, or the corporate events.
Printed helium balloons were not much popular till the last few years, but with the options and designs they come with, most of the people prefer to buy only these balloons, as they are not only attractive, but they are quite unique as well. You must be wondering that, what all you can do with balloons which were only a plaything in your childhood. Let me break the ice for you, the printed balloons are not only used a toy and a decorative piece, but now they are also used for the purpose of promoting any kind of business.
Printed helium balloons come in different shapes and sizes, and you also get the option to customize these balloons as per your needs, these balloons can be best used if you are planning to promote your new business or you want to add on some attractiveness and vibrance in the coming party. The best thing about printed balloons is that they also have a good shelf life, which sometimes goes up to six months, provided they are stored in a cool place, as there are chances of inflation if out them in heat or dark. One more thing which one has to keep in mind is that the logos and imprints on a printed balloon get distorted when the balloon gets inflated.
Let's have a look at some of the tips of Printing Balloons:
Simple text and graphics: Highly detailed work is not recommended as it does not get well translated on the balloons and it also becomes less readable when the balloon gets stretched, it is suggested to stick to the simple graphics.
Use the billboard principles: These balloons are similar to mini billboards, for a good impact, it is advisable to use fewer words and also limit the message on one idea.
Apart from this, it is always considered smart to go for the high contrast balloons as they help in catching more eyeballs.
Hope this article will prove helpful to you.