The process of printing balloons is a tedious activity but offers endless possibilities to customise balloons. Commercial establishments can print logos and advertisements on the balloons to advertise their brands, or people can use them for personal occasions by using 1 to 8 print colours. One of the latest and fastest-growing advertising techniques, balloon printing services in Bangalore, is a cost-effective way to direct business products and service messages to consumers. Let us look at some different balloon printing methods:
1. Balloon Printing on Foil Balloons
Foil Balloons are of mylar material and come with a self-sealing valve that allows users to use them repeatedly. The foil balloon printing process is an affordable and cost-effective way to create personalized and long-lasting product promotions or celebrations. All you have to do is choose the size and colour of the foil balloons and give us information regarding what you would like us to print onto your balloons. You may use customized printing for branding, artwork, photographs, personalised messages, or logos. Foil balloons can be customised in shape and size to create a unique balloon decoration.
We offer a provision of delivering printed foil balloons in a box if you intend to surprise your loved ones on their special occasion. You may choose different forms of printed foil balloons as per your requirement:
Shaped foil balloons for kids' parties are available in character shapes like Doraemon, Tweety, Mickey Mouse, etc.
Mini foil balloons are used outside shopping malls where sellers sell them after putting balloons on a stick or a cup.
Customized foil balloons are designed especially as per customers' needs and requirements.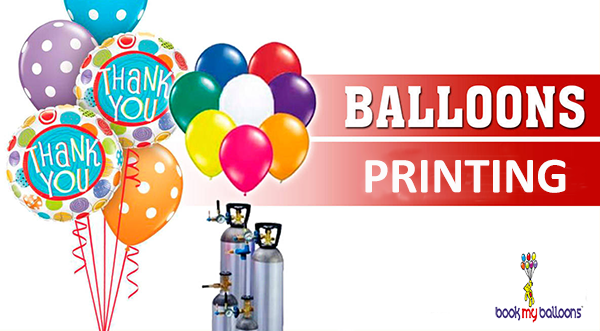 2. Screen Print on Latex Balloons
Printing on latex balloons is very common for corporate houses as a tool to market their business' goods and services and can be customized according to customers' requirements. Latex balloons are elastic and made from rubber, latex polychloroprene, or nylon fabric. Once inflated, the regular latex balloons can last 8-10 hours. During the latex balloon printing process, the balloon needs to be inflated, and once printing is done, the balloon is deflated back before the sale. A special kind of ink gets used for screen printing that has elasticity properties and can expand according to the inflation of the latex balloon.
3. Simple Screen Print on Latex Balloons
The simple screen print process involves low-cost, easy prints and personalized prints that are the main attractions of a perfect wedding day, anniversary day, birthday, official, or other unofficial occasions. Our balloon screen printing in Bangalore uses latex balloons that are of superior quality and biodegradable.
If you are planning to make someone's day special or organize an event for commercial purposes, call us for the best and most affordable balloon printing services in Bangalore.
Whether it is a wedding, a corporate event, or any other momentous occasion, balloon printing methods can make it much more special. Connect with us at bookmyballoons.com or visit us for Bangalore's best and most affordable screen-printing services.