No party is considered complete unless there are balloons decorations to it. Earlier helium-filled balloons were used to make a perfect Frozen Balloon decoration party but nowadays, helium is not present in bulk quantity so decorators are trying to find new ways to decorating balloons.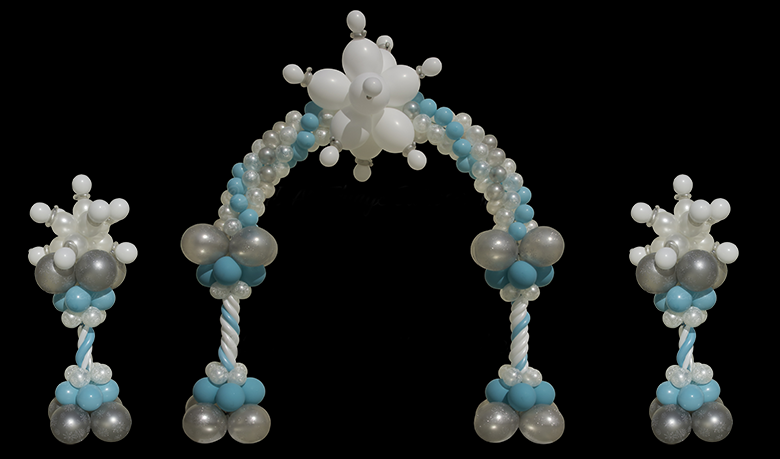 If you are a frozen balloon decorator and looking for some unique ways that can get visitors attention immediately, then try to inculcate different colors balloons to make a perfect themed balloon party.
Let us look at the means and ways to make a frozen balloon decoration, a possibility:
What All You Need to Collect?
White-colored 11-inches Latex Balloons
Blue -colored 11-inches Latex Balloons
Trash can to get an idea of the exact size of the balloon and
An optional air compressor.
Foil Balloon
Let us Begin with Making Balloons Column
Inflating balloons to make a balloon Column is quite an easy task but need patience and time from the balloons inflator.
Balloon column consists of parallel rows forming groups.
Each balloon group contains four balloons.
The best way to make a perfect balloon column is to inflate each and every balloon of the same size. For this, a trash can is used to fix the size to some constant nature.
Then take two balloons and tie them together.
Stack the quad grouping to a vertical position. You can take a conduit or stick to forming this stacking.
Now create groups of 4 balloons and stack one group over the other, rotating the second group every time you stack the first one.
Nicely place one group over other so that your hard work is presented in a very beautiful and serene way.
Make sure you don't move the balloons exerted force as it would break the balloon and disturb your stacking arrangement as well.
Inflating frozen balloons is a time-consuming task and it takes almost 1 1/2 hours to create four columns of balloons. You can use an air compressor if you really want to save your time.
It is generally seen that balloons flown using the conventional method of blowing air won't last as much as balloons filled with other methods.
Of course, how can we forget a centerpiece here? Once you are done with forming a frozen balloons' stack, move on to the centerpiece. You can use foil balloon with self-sealing value for this purpose. Inflate this balloon using a hand-pump and use other balloon formations to nicely decorate this centerpiece.
Make sure you buy some extra balloons for creating an amazing balloon banner. For example, tie a ribbon around two trees located at far away distance from one another. Now inflate as many balloons as you can and hung them from the ribbon used by you. Taping balloons to the ribbon is again one of the easiest tasks that one should do to beat your competitors.
Buying helium gas cylinder is quite an expensive task these days. So, if you don't want to miss that festive mood plus want to enjoy as much as you can, try your hands on frozen balloon decoration and save the considerable amount of your time and money.