The balloon party decoration industry has acquired a significant space in the events business. With social media and certain online platforms, new businesses can easily do their sales and marketing without a glitch. However, beginners need enough experience to understand how to overcome regular issues to avoid making losses. Here are some newbies balloon decorating tips for you:
1. Find Innovative Ways
As a young newbie, you may be in touch with the times and expectations of the clients. Use this knowledge to upgrade your skills and get innovative to come up with creative balloon designs. When clients find something different and attractive in newbies' balloon decorating ideas, they will go for it as the unique ideas are always better than off-the-mill designs. Use your originality to catch customers' attention.
2. Local Presence
The only way to make your presence felt amongst competitors is to create your own online space. Make sure your website is registered under the local listings so that the neighborhood can easily keep a track of your business and understand the potential of beginner balloon decoration ideas.
3. Customer-centric business
While starting a new business, try to focus on keeping it simple. Start with basic decoration ideas and later move to complex ones. You need to hold on to values and ethics while dealing with customers for improving your business. Good quality balloon decoration, customer retention, and website maintenance should be given prime importance to build the reputation of your business.
4. Offer Amazing Packages
In the competitive market, try to build your brand by creating unique packages. One of the newbie's tips for the balloon decorating industry is to create exciting packages. Make regular attempts to brainstorm with colleagues and take feedback from customers to create appealing packages as per their expectations. Complete packages with end-to-end services will encourage new and existing customers to keep coming back to you.
5. Share Customer Reviews
Transparency is the best way to attract customers. Use your website to display your latest work or news on upcoming packages. Ask you're happy customers to write their reviews regarding their experience with you. Reading positive and encouraging reviews always helps first-time customers to take the leap of faith and contact you for your services.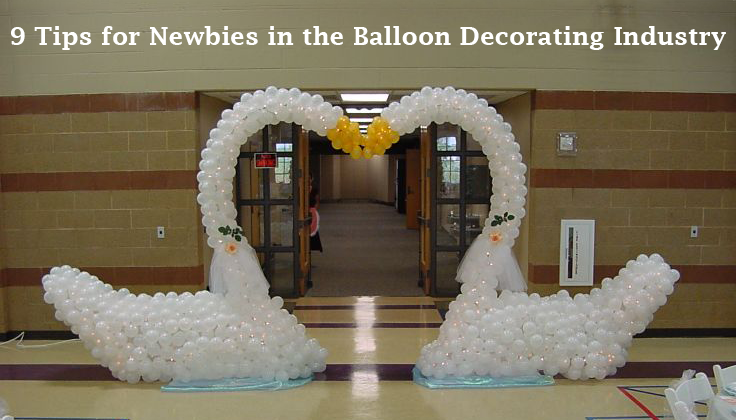 6. Authentic Content on The Website
Customers look out for genuine businesses. Use your website to write genuine content about your work only. A description of your journey from the start-up years in business to being an established entrepreneur will make customers relate to you and your brand. Your content quality should be unique and very impressive.
7. Avoid Plagiarising Designs
Maintaining uniqueness in your designs is one of the important aspects of creating your brand and style. Your packages and their uniqueness should take your balloon decoration business to a completely new level. As balloon decoration ideas for newbies, many decorators find copying designs an easy and less time-consuming task but is not as pleasurable and satisfying as creating your designs.
8. Value Your Customers
Happy customers can bring more business to you as they share their experience on the website or through word of mouth with their friends and family. Ensure that all contracts are completed as discussed and always go the extra mile to satisfy your customers. Keep in touch with all your old customers and they will be willing to put in a good word for your service next time.
9. Workforce Ethics
Everyone likes appreciation, especially once they have completed a job as per the contact. Whether you are an individual party decorator or have a team, make sure you keep up the workplace ethics, value your workforce, and take utmost care of them.
Mentioned above are the simple newbie's balloon decorating tips that can be used for the betterment of your new business. Get in touch with www.bookmyballoons.in or visit us for all your event-related services. We will be happy to help you with our expertise in implementing decorations of your choice with perfection and on time.