From the year beginning till the end December month, everyone waits for a grand Christmas Party. Whether you are hosting the party or going to attend somebody else's party, it really doesn't matter! But, if you are asked to organize a party, it does matter a lot.
There are several things that would start boggling your mind once you start to organize a grand Christmas party. You think to make everything perfect so you start planning beforehand.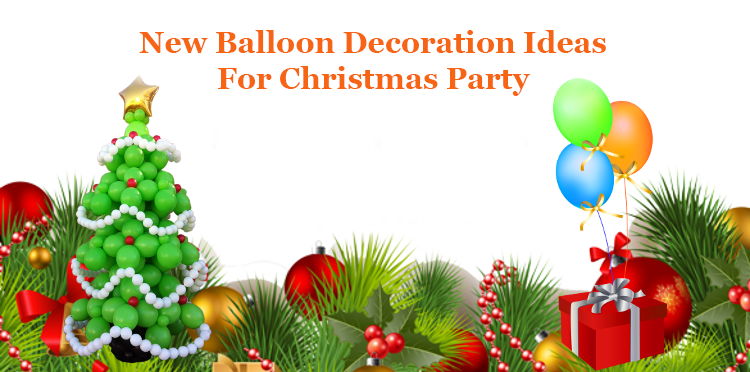 The first step to start planning for a party is to prepare a list of guests who would come and become a part of your celebrations. Then comes arranging the party hall, food, costumes (if it is a theme party), and last but not the least, How can we forget about the decoration part.
Besides these usual thinks like arranging hall, food, drinks, snacks, there are more to it that needs your considerations.
Decorations!
Yes, Decorations is the right word that we really mean to mention here. Decoration makes a party ambiance perfect.
What about an idea of decoration your party hall with new balloons? Isn't it amazing?
Depending on the size and type of party you are organizing, you can think of decorating your party hall with balloons that can make it a perfect party of the day.
Balloons have become one of the best ways to decorate your party hall. You can figure out creativity and innovative ideas from your experience and give your balloon decorated party an all-new look.
We are here with the list of ideas that can be implemented to decorate your party hall using new balloons in an astonishing way.
You can customize your dining area by hanging photos from the balloons, over the chairs of the respective guests.
Organizing a separate area containing Water balloon slip and slide game.
Presenting return gifts to the guests hanging balloons over the bags of each guest's gifts.
Putting a glowing stick inside balloons prior to inflating them and then filling the air to see the magical effects of the sticks that you put to get a balloons' glowing effect.
Sticking balloons to the walls of party hall.
Hanging Polka dotted balloons over the wall so that entire ambiance of your party hall is refreshed.
Decorate Christmas cake with balloons.
Decorate a pool, insert glowing sticks inside balloons and then inflate. Let these inflated balloons float on water to get a mesmerizing effect.
Inflate balloons in different sizes and decorate in a manner that attracts your guest's attention easily.
Introduce your creativity inflating balloons and add a cone like a figure at the base to get a feeling of an ice-cream cone.
If your guests list include kids as well, you can inflate balloons in the form of fruits and give your guests (kids) an all-new experience.
Above are some of the ways that we recently researched to make your Christmas party day, the biggest day of your life.