The most awaited festival during the winter season has to be Christmas. The positive festive vibe brings a lot of excitement among family and friends, especially at a Christmas party. Balloons are usually a great way to incorporate the Christmas theme and colours into a party. Listed below are a few simple DIY Christmas party balloon decoration ideas with new balloons that can be created with ease:
Holly Balloon Sticks
Holly sticks have been synonymous with Christmas décor as the red berries symbolise Christ's blood and the green leaf is a metaphor for life after death. As part of the Christmas party balloon decoration ideas, the holly balloon sticks can be used as fun props for holiday photos, set up as centrepieces on guest tables, or given away as favours to kids at a Christmas party. Create the simple yet adorable Holly balloon sticks by using leaf templates, red mini balloons, and sticks. Print and cut out the templates of the green leaves. Inflate three red mini balloons around 3″ in diameter. Push all three ends of your balloons through the holes in the centre of the leaf template and secure them behind the leaf. Attach one end of the stick behind the leaf to hold the holly facing the front.
Christmas Balloon Lights
The simplest way to decorate a Christmas venue is to use red, green and white balloons as the colour theme. An interesting way to use these balloons is to string the inflated red, white and green balloons like Christmas lights. Make a long series and decorate it all around the ceiling. To add sparkle to the balloons you may insert a glowstick inside the balloons before inflating or simply use fairy lights over the balloons.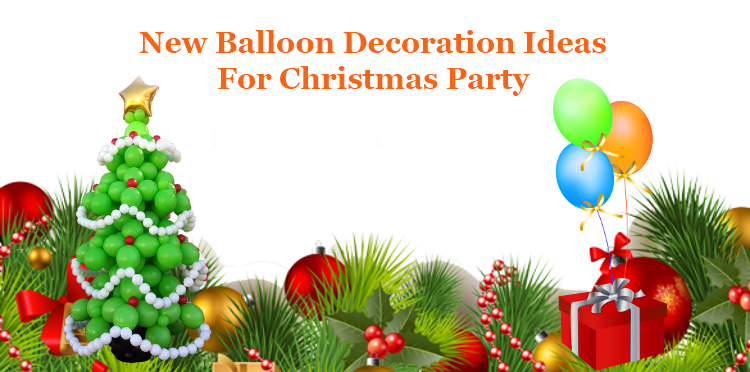 Christmas Balloon Sculptures
Christmas parties are enjoyed by kids. To keep them entertained, create balloon sculptures of Santa, Reindeer, and Snowman which they can take home later. If you find it hard to create, call us or visit us for Christmas balloon decorations in Bangalore.
Balloons can be used in multiple ways with creative and innovative ideas as per your choice to give your party an all-new look. You can do a simple balloon decoration at home, on your terrace or in your lobby to enjoy with all your near and dear ones. These DIY Christmas balloon decoration ideas will not only be unique, but they will also spread a joyous vibe among the guests.
Get in touch with www.bookmyballoons.in for Christmas party balloon decor ideas or other event-related services. We will be happy to help you with our expertise in implementing decorations of your choice with perfection and on time.