Balloon Decorators can really make your special day more special. While decorating your big day with balloons, they must look after some safety tips so that they aren't hurt at any cost.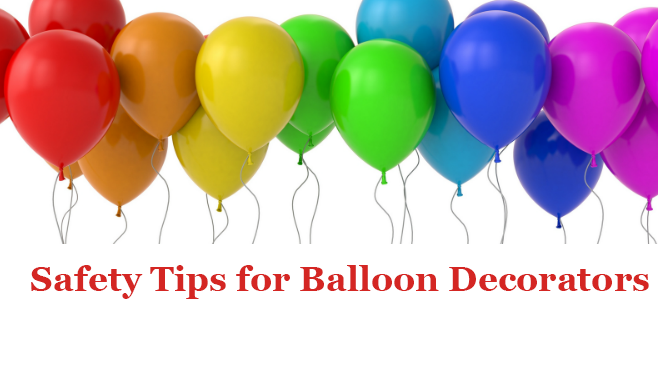 1. Carry your personal tools or hire the ones that are working in good condition.
You might need a scissor or a knife to cut the thread. It is better to carry your own tools rather than buying them from occasion site. Watch carefully your actions and try not to harm your fingers at any cost. If you have taken up the order of inflating only a few of the balloons, then inflating with your mouth is one of the bets options else uses balloon inflators that has been approved by the recognized institutes.
2. Bring your ladder, chair, or anything that can help you put balloons on the ceilings.
Decorating ceilings with balloons have become a trend these days. Most of the people decorate their ceilings with colorful drapes, balloons, pompoms, and much more. Being a professional balloon decorator, you must carry your ladder, wooden chair, or anything that can increase your height to reach the ceiling. Make sure you are using a sturdy and robust ladder so that you don't fall down and harm yourself.
3. Stay away from open wires, or any other kind of electrical connections that are faulty and can cause an electrical shock.
Most of the times, balloon decoration is done side by side with the other electrical cabling. You need to be very cautious of those open wires that can give a shock. Make sure your balloon inflator runs on 230V AC, 50Hz power supply if you are a professional Balloon decorator based in India because Indian Power outlets supply 230V, 50Hz Single phase power supply.
4. Carry your drinking water along.
It is assumed that you would be asked to come at the venue, some hours before the start of the party so the Venue Owner may or may not turn On the Air conditioner before the party begins. This may trap you in a dehydration situation. To avoid such problems, you must carry your drinking water so that your body feels hydrated and active throughout the day.
5. Always reach before time.
Whether you are just a startup or a professional balloon decorator, you must reach the venue spot before time. It is very hard to inflate balloon either using mouth or using inflators so it is advised not to waste time and better reach the venue beforehand in order to avoid any last minute rush.
6. Work carefully
Venue spot may be wet so if you see any sign board with a wet area warning sign, try to walk slowly in order to avoid any kind of accidental slippage. There are cases when janitors forget to put these signs so better watch your steps and your walking area to work safely.
Hopefully, you will take these 6 simple tips into consideration while decorating and making someone's special day more special.