Decorating can be a fun-to-do thing that adds an emotional touch to the event, especially if it's for your best friend. If you are not inclined towards the creativity and decoration of an event, then you may find it tough to throw a party for your besties. When the decoration starts to get mind-boggling, then you can use these easy party decoration ideas for bestie and follow the tips to enhance the party glamour to a new level.
1. Centerpiece-Decoration
Any party needs to have a central theme and to depict that, what better than a Centerpiece! A beautiful centerpiece can convert your party space into an attractive one. Use colorful balloons to create a centerpiece that depicts the theme of the party. You can also hire a decorator and ask for friends-themed party decorations that can be used to create the centerpiece. Balloon arches or interesting balloon arrangements will surprise your friend.
2. Themed-Party
As friends, you have many common interests that can be used as a party theme. Choose a theme that brings fun and excitement to the party. Games, Music, and Movies are some of the fun and simple bestie party decoration options that can bring laughter and cheer to the party. Decorate your space with the balloons of that theme or create a balloon arrangement to set the mood of the event.
3. Attractive Balloon Arch
A balloon arch decorated at the entrance of your party venue will make your friends feel welcomed. Simple party balloon decorators in Bangalore can easily create a balloon arc with the theme and colors of your choice. Balloons and decorating materials like glitter, glowing lamps, and flowers can be added to the arc to make it look glamorous. The balloon arc can also get placed near the center stage or the photo booth to help you click memorable pictures with your besties.
4. Decorative Tablecloth
There's a good chance of a tablecloth getting messy at a fun party with friends. Avoid ruining an expensive table cloth. Instead, it is best to buy wrapping paper with a good design and use it as a table runner. Decorate the table as per the theme and add some colorful balloons to create an inviting table.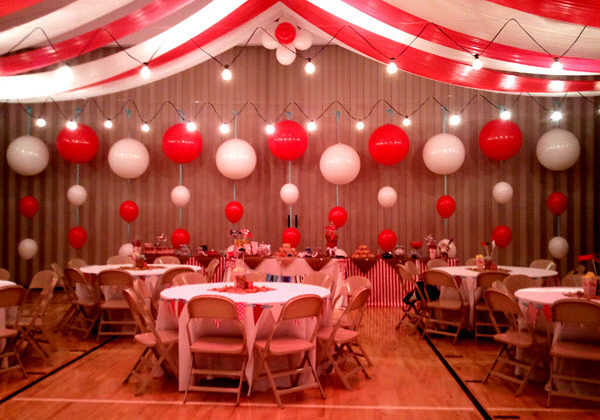 5. Use Furniture as Decoration
When you are throwing a party at your place, get creative with our themed- party decoration tips and use the house furniture as a part of your decoration. Organize your sofas, chairs, tables, and other interesting pieces of furniture in a way that your guests can sit and relax. Use theme-based colored balloons on the furniture to give your space an all-inclusive feel.
Above are five simple yet effective ways to decorate your party. Go through these ideas and surprise your besties by throwing a memorable event. Get in touch with www.bookmyballoons.in or visit us for easy party decoration ideas for bestie and any other event services. We will be happy to help you with our expertise in implementing decorations of your choice with perfection and on time.