Throwing a party, no matter how big or small can be a daunting task for many. The preparation required for creating a guest list, curating a theme, and finalizing the food menu and the decoration can make any host feel frustrated. As party decoration services in Bangalore, we can take care of it for you. Regardless of the number of guests, we can offer various plans for decorating your party venue. Here are a few unique and smashing party celebration tips to spice up the celebrations.
Decide a Theme
Themes set the ball rolling for a party. Right from your invite and dress code to food and décor, everything comes together once you decide on the theme. You will need some time on your hands to set up the arrangements for the theme. Most people prefer theme party balloon decoration in Bangalore.
Visit your local party shops and find out if they have your theme-related supplies. Alternatively, you may hire a balloon decorator and all the theme-related supplies can be delivered to the venue.
Reuse Party Supplies
Once a theme is set, it would be wise to first check what materials are lying around in the house that can get used for the party. Unique balloon decoration ideas can be created out of old packs of balloons lying at home. Create a balloon setup to arrange near the entrance to welcome guests. Certain festive décor that you use every year can also be incorporated into the theme to make it look special.
Wall Decor
Wall décor helps in setting the stage for the party. Many decorative supplies found in nearby stores can be used to enhance the look of the event. Use numbers and alphabet balloons for creating a text to mark the event.
Event Banners
A banner helps to spell out the theme of the event. We find different kinds of banners for various events, right from baby showers and birthdays to weddings and anniversaries. Decorate the banner with balloons and streamers or flower arrangements. You can hang the banners near the entrance, main door, on the stage, etc. Just remember that the place needs to be suitable.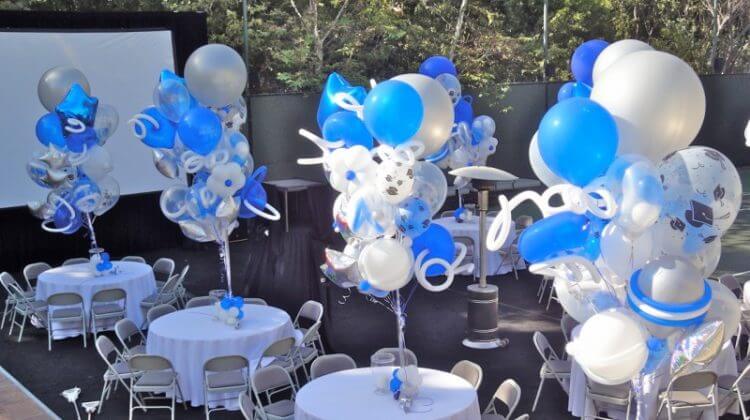 Theme Cake
If you are throwing a theme party then everything will revolve around the theme, including the cake. Bakers are ready with many options and can offer you some good cake smash party decoration ideas. Ensure that you place the order on time before the event. If you are a good baker yourself, then you can bake one at home as per the theme.
Theme-Based Return Gifts
When the event is theme-based, it's a norm to make the giveaways or return gifts as per the theme. The best way your guests will remember your party is when they take the theme home in the form of a gift.
Hope you can use our expert tips for your next celebration, and if you need any particular gift, do let us know.
Get in touch with www.bookmyballoons.in or visit us for smashing party celebration tips and any other event services. We will be happy to help you with our expertise in implementing decorations of your choice with perfection and on time.