Preparing for a birthday party means balloons, family, friends, and cakes but more importantly a plan that will have everyone involved to have fun. The best option for creating an enjoyable yet glamorous birthday party is to go with some amazing latex balloon birthday party decoration tips that would help you to throw an incredible birthday party. As a decorator, once you finalize the venue, the number of guests, and the theme, try to understand the likes and dislikes of the birthday boy or girl. You can start streamlining the plan for the party. Here are a few unique birthday party decoration ideas using latex balloons that will guide you better.
1. Birthday Bunting
A very sweet way of decorating will be by creating a wall bunting for the birthday boy or girl with the help of confetti-filled latex balloons and colourful streamers. The other idea is to tuck the bunting into a cake or cupcake and decorate the table with theme-coloured latex balloons.
2. Balloon Garland
Balloon garland as a backdrop or entrance décor is the latest trend all over social media nowadays. With a colour combination and theme in mind, create a birthday party decoration with a latex balloon with the help of garland tape or ribbon. Use the ribbon to tie all the balloons together and create a long garland required to decorate the entrance area of your party area.
3. Glowing Balloons
Glowing balloons are the most magical way of birthday decoration, especially for evening and night parties. As part of latex balloon birthday party decoration ideas, just insert glow sticks inside the balloons before inflating and tying them. Create an enticing lit-up balloon corner or a backdrop that will also work as a photo booth.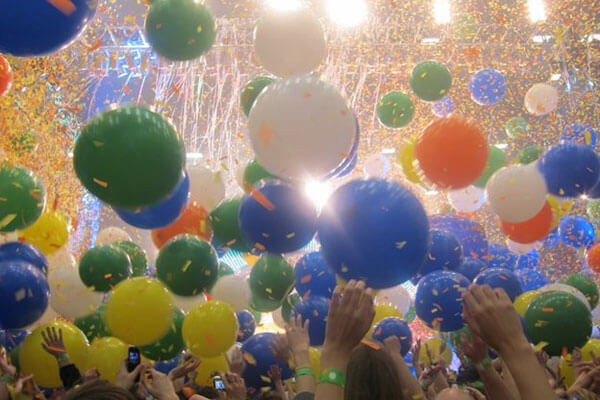 4. Printed Latex Balloons
Many latex balloon birthday party decorators can arrange for printed balloons. Print your favourite character or theme on the balloon and arrange them in a bunch on a table or spread out in different corners. You can also attach the printed balloons to the return gifts for the guests to take back home.
5. Arrange Games with Latex Balloons
Arrange some fun games with latex balloons which will keep your guests engaged at the party.
Get in touch with www.bookmyballoons.in or visit us for latex balloon decoration in Bangalore and any other event services. We will be happy to help you with our expertise in implementing our latex balloon birthday party decoration tips of your choice with perfection and on time.