Are you a proud parent to a naughty yet extremely adorable toddler? If you're planning to throw a party for your little one and looking for toddler birthday party ideas, read on. We are one of the best birthday party organizers in Bangalore offering to help you organize memorable parties and other events.
The first few birthdays your kid must have experienced would have been at home where family members and relatives gather and bestow love on the baby. However, as they grow up, you need to come up with exciting ways to celebrate birthdays and other milestones.
As children enter into toddler years, they are keen to socialize and make new friends. To help them further their socializing skills, we suggest you hire us or visit us. As one of the best kids' birthday party organizers in Bangalore, we help young parents give their children a party they deserve. But a great kids' party need not be expensive – you can give the child the best party on the most modest budget. Here are a few toddler birthday party dos and don'ts ideas you must follow:
The Toddler Party Dos
Keep It Short & Crisp
It is important to know when to end the party. Typically, a party for two-year-old kids should be held for an hour to an hour and a half. Children between the ages of three to five can go from an hour and a half to two hours before getting tired.
Also understand that the time to keep the party is important – in the sense, that it must not clash with the toddler's nap time. The best times are post-lunch parties to late morning parties where the toddlers are active and kicking. Also, keep the guest list in check to ensure everything is well in place and arranged.
Let Your Toddler Decide a Bit
To give them a hint of ownership, consider allowing your toddler to make tiny decisions. For instance, they could help pick the cake flavour, the theme, etc. This will increase their interest and make them happier.
Plan Games as per Their age
When looking for toddler birthday party game ideas, consider the age group that you will be catering to. For instance, since toddlers are impatient you must consider games that are of short duration and are fun too.
Take Some Help
It is not easy to plan and execute a toddler party and thus accept any form of help that your guests or your relatives might offer.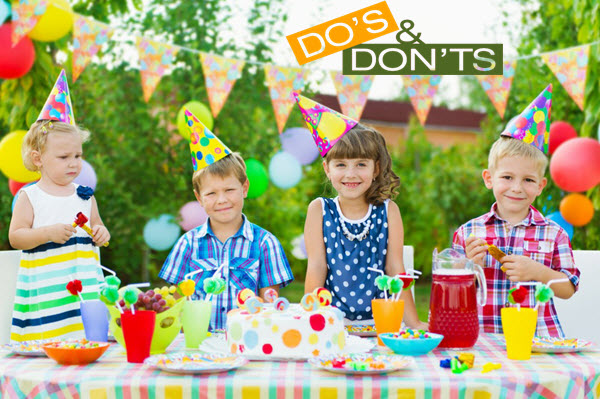 The Toddler Party Don'ts
Don't Miscommunicate with Parents
If you are holding the party at lunchtime, let your invitation state whether they can expect lunch, mention the time duration, date, venue, and other conditions well such as whether to get a gift or without one so that the adults can use the info wisely.
You Need Not Entertain the Adults
While the stars of the party are the toddlers, create self-help for the parents who can take the food themselves and spend some quality time with the kids.